Well, hello there! It's good to see you again. As I anticipated, with moving went the death of my brief return to regular blogging. I can't promise that now that we're (nearly) settled in I'll improve, but I will promise to try. I do have several new recipes to share with you, albeit several are without pictures.
In general, the move went as well as to be expected. This was my first experience with a full-service move (i.e., they do the packing for you). In the past, I'd always had boxes and boxes ready to go and a bunch of sweaty guys simply loaded them up, disassembled a few pieces of furniture, and did the same thing at the destination. This time instead I had to deal with 4 sweaty guys taking ages to pack and load. In my previous 6 moves, I'd only had one experience where it ever took the movers longer than about five hours to be in and out of my life. (The previous time was when we left Hawaii and they point-blank told me that I was their only assigned job for the day and would be killing time so they weren't sent out on another.) Anyway, many things I never had to worry about or be annoyed about were involved in this move. For example, that they left the largest packing task (my kitchen) to a single guy, who obviously had no clue about how to pack efficiently as he packed about three dishes an hour, was maddening. Moreover, the foreman kept promising that they'd be done in a day. He promised this all the way up until 5:00 p.m., when I finally told him there was no way it was going to happen as my kitchen was still NOT packed! Other than their sluggishness during the loading, breaking a lamp with a CFL bulb 3 minutes after they arrived (a minor hazmat issue, btw), and numerous other minor annoying things like adding extra padding to a pack of rubber erasers and placing my super heavy bed frame in the wrong position twice (naturally I didn't notice the second screw-up until after they left), things generally went okay. Northern Virginia with its terrible congestion (think H-1 during rush hour) is a dimming memory.
Unpacking has taken quite awhile. My aunt and my husband's parents were in town for a week or two to help out so much got done while they were here. However, my husband and I moved into an "old" house (it's nearly 40, which I don't consider old seeing as I'll be that age by the end of this decade, but it's old) and there were a lot of little things that claimed our attention. Thus, instead of our extended family helping just with unpacking and picture-hanging (which they did do a lot of), they built a stand-alone pantry because apparently much cabinet space wasn't needed in the 1970s, and went to Lowes a dozen times for patio, lawn and garden gear. Speaking of which, I finally got my very own grill!!! This meant that all I needed to do most of my cooking was a cutting board, knives, and tongs. I even now make our weekly pizza on the grill. In short, we began making the house our home right off the bat, which didn't leave quite as much time for unpacking as I'd hoped.
However, Friday will be our 1-month anniversary of moving into the house and I'm determined to finish unpacking if it kills me, which it very well may seeing as it's now Wednesday and I haven't touched a box since the weekend. Despite all my complaints about the move, we're really loving this house. It's not a whole lot of space, but it's a lot more than we had. My son has nearly an entire room for his play area, as well as his bedroom, a portion of his Daddy's office, and assuming I ever get it unpacked a place in my craft room. We don't have a proper yard, but we do have a good-sized deck for his slide, picnic table, and other toys. What's best of all about this area is that there are sidewalks galore! We can walk to two libraries, a park, two farmer's markets, two lakes, a very nice mall, several play lots, and the neighborhood pool. Sadly, we cannot walk to either the Trader Joe's or the Wegmans as they are just over 3 miles away and across a major highway, but there are two grocery stores that we can walk to in a pinch. Plus, my husband's about 10 minutes away from work which means he turns up quite often during the day.
Wow, that was a much longer bit that I'd intended. Enough chatter and onto the recipe. One of the only downsides of this area that I've noticed thus far is that food prices are slightly higher than they were back in Northern VA. On the plus side, there are regular farmer's markets all the way till Thanksgiving so that takes a bit of the sting out of my weekly produce bill which was getting out of hand. (I'm willing to trade some organics for the farm-to-table experience and several vendors at the market are at least low-chemical, even if they are not certified organic). Anyway, in efforts to save a little, I'm again trying to front-load my meat and other major pantry-stocking purchasing to the beginning of the month. Since the freezer's still full, that I have no whole chicken to make chicken stock shouldn't mean a trip to the market. Enter vegetable stock. It's absolutely beautiful! As the title of this post suggests, I roasted my veggies first per this recipe, then simmered away as I usually do for chicken or beef stock. I haven't tried cooking with it yet, but I'm sure it will work splendidly for soups, rice, and other grains. The basic recipe is again more of a method, but I'll include what veggies I used below. If you check out the Food Network recipe I roughly followded, it has suggestions for "summer" and "winter" varieties.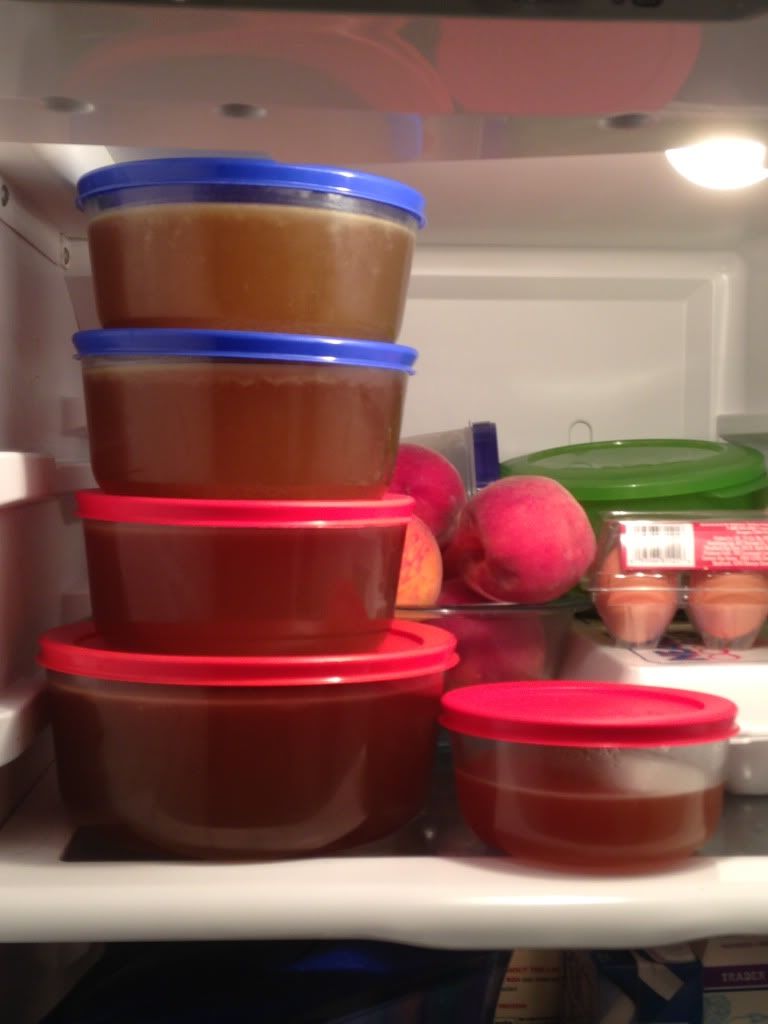 Did I mention it's beautiful? As you can see, there's next to no yucky fat to skim off.
Roasted Vegetable Stock
4 onions, quartered
4 carrots, cut into chunks
3 stalks celery, cut into chunks
8 garlic cloves, crushed
2 leeks, washed, rough stems removed and cut into chunks
Olive oil
1 TBS black peppercorns
Few springs fresh thyme
1 tsp dried rosemary (or large fresh spring)
2 tsp salt
1-2 bay leaves
3-4 quarts water
Preheat oven to 400 degrees. Toss veggies in olive oil and place on a sheet pan in a single layer. Roast for 45 minutes.
Add veggies and remaining ingredients to a large stock pot and fill with water. Bring to a boil, then cover and simmer for and hour or two until the stock is a lovely golden color. Strain and cool before refrigerating or freezing.
I haven't portioned mine out but it looks like I got at least 14-16 cups worth.