This recipe is adapted from one that appeared in this month's Everyday Food, entitled "Yogurt Waffles." The recipe advised against using quick oats, but they worked fine for me. I substituted vanilla yogurt for plain and forgot the salt. I also didn't have enough eggs to do my mostly whites switch, so this was all fat. Nonetheless, they were great. As you can see, I used my Winnie the Pooh waffle maker, so they were tasty and cute!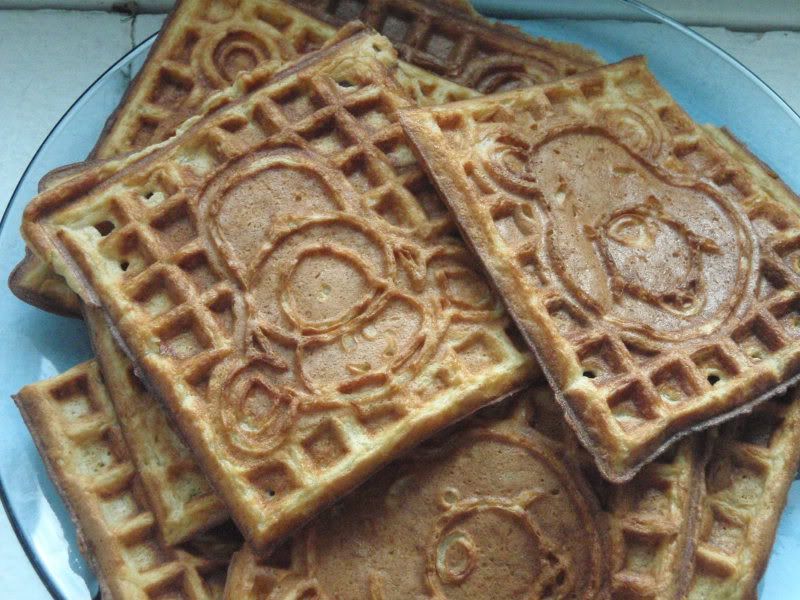 3/4 c all purpose flour
1/2 c whole wheat flour
1/2 c uncooked oatmeal (I used quick oats)
2 tsp baking powder
1 tsp baking soda
1/4 c packed light brown sugar
1/4 tsp salt
3 tbs butter, melted
3 large eggs
1.5 c vanilla yogurt
Combine flours, oatmeal, baking powder, baking soda, and salt in a large bowl. Separately, whisk together brown sugar, butter, eggs, and yogurt.
Combine wet and dry. Let batter sit for 15 minutes.
In a greased waffle iron, cook until golden brown.
Serves 4-6
(I got 8 pairs in my half-sized waffle maker)