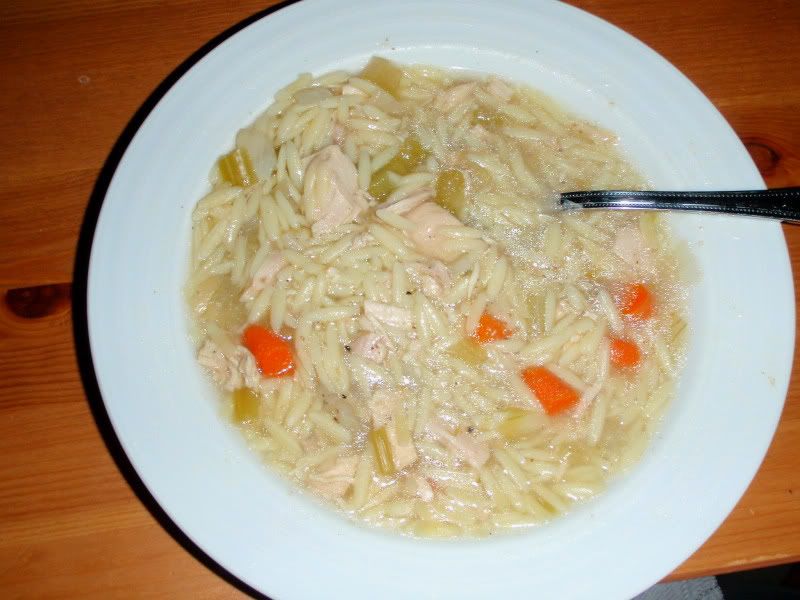 This is the same chicken noodle soup recipe that I always use, but I was out of noodles so used orzo. Looks like chicken and rice but with pasta.
4lb cut up frying chicken
2 quarts (8 cups) water
1 cup chopped onions
1 cup chopped celery
1 cup celery leaves
1 bay leaf
2 teaspoons salt
1/2 teaspoon pepper
5 carrots, cut-up
1 cup uncooked orzo
1. In 4-quart stockpot, combine chicken, water, onions, celery, celery leaves, bay lead, salt, and pepper. Bring to a boil. Cover; simmer 45 minutes or until chicken is fork tender, no longer pink and juices run clear. Add carrots; cook 15 minutes.
2. Remove chicken from pot. Cut meat from bones. Skim off and discard fat from soup. Return meat to soup. Bring to a boil. Reduce heat to low; simmer, uncovered, 10 to 15 minutes or until carrots are almost tender.
3. Add noodles. Return to a boil. Cook over medium heat for 10 to 15 minutes or until noodles are tender. Remove celery leaves and bay leaf. If desired, garnish with chopped parsley.