This recipe has been modified from Taste of Home recipe found
here
. Basically, I halved it and lightened it a bit.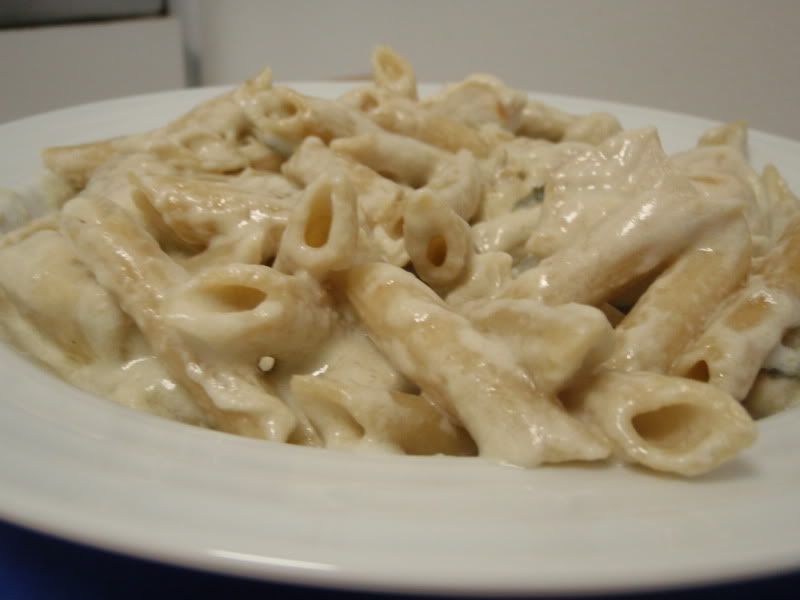 8 oz pasta such as penne or rotini
1/2 lb boneless, skinless chicken breasts, cut into 1/2 inch pieces
1 T olive oil
2 clove garlic, minced
1/2 c chicken broth
1/2 c Half and Half
1 c, 4 oz crumbled Gorgonzola cheese
1/4 c grated parmesan, and more for serving
About 2 T fresh sage leaves thinly sliced
salt and pepper
minced fresh Italian parsley for serving.
Salt and pepper chicken. Brown in medium skilled heated with olive oil. Once the chicken is browned, add garlic and cook for 1 minute. Add chicken broth and stir to loosen browned bits from the pan. Add half and half and bring to a simmer. Cook until chicken is cooked through, about 5 more minutes. Add cheeses, sage, and sprinkle with salt and pepper. Cook until cheese is melted and has reduced to desired consistency, about 5-10 more minutes. Sprinkle with additional parmesan and parsley.
Serves about 2.