I was in the mood for pizza last night and had some spinach and mushrooms dying to be made into something. I again used the dough recipe from Our Best Bites available
here
. This recipe is very similar to the
one
posted last month but more of a snack pizza since I had less ingredients. I kept the crust super-thin, added mushrooms and did a little something different with the garlic. I also only had mozzarella cheese.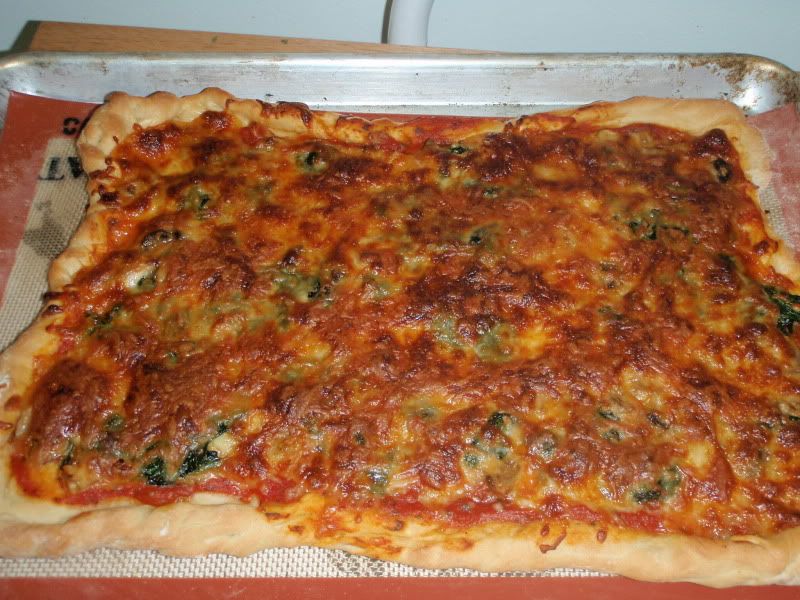 Printable Version
Dough for one pizza, fresh from the link above or store-bought
3 cups fresh spinach
8 oz fresh mushrooms, sliced
4 cloves of garlic, peeled but whole
2 cups marinara sauce (I used Trader Joe's garlic and tomato)
2 cups mozzarella, shredded
olive oil, butter
salt and pepper
1. Prepare the dough according to the directions. Roll dough into the shape of your pizza pan, creating a "crust" so your ingredients won't spill out. If using the recipe above, allow dough to rise on a silicon baking mat (aka "slipat") for another 20-30 minutes while you prepare your toppings.
2. Preheat oven to 425 degrees. Place baking sheet in oven to warm up with the oven. (This is the purpose of the baking mat--you can place the pizza on the heated sheet and avoid the pre-baking step.)
3. In a tall skillet, melt 1 T of butter in about 1 T of olive oil until butter is melted. Saute mushrooms until they begin to brown. Add whole cloves of garlic once you have the mushrooms tossed with the butter/olive oil. Salt and pepper mushroom mixture only after the mushrooms are 3/4ths of the way cooked. Add spinach and cook another few minutes until wilted. During this last stage, cut or mash up the whole cloves of garlic. (Using whole cloves and then mashing them up allows the garlic flavor to infuse through everything without worrying about burning.)
4. Pour 1-2 cups of sauce onto the prepared crust, spread around. Add the spinach-mushroom-garlic mixture. Add a little more sauce, if desired. Top liberally with shredded cheese.
5. Bake on preheated cookie sheet for about 10-15 minutes, or until crust is done and cheese is golden brown. (Note: I'd say that I cooked this one a few minutes too long, but it was tasty nonetheless).
6. Allow pizza to rest for a few minutes before slicing. I'd guess it feeds 3-4 for a meal or 4-6 for snacks.