I posted this recipe about a month ago, with certain modifications. Namely, that pie had more apples than peaches. This time I followed this Betty Crocker recipe more diligently with respect to the apple-peach ratio but omitted the almonds. The result was an extremely juicy pie that was quite well-received.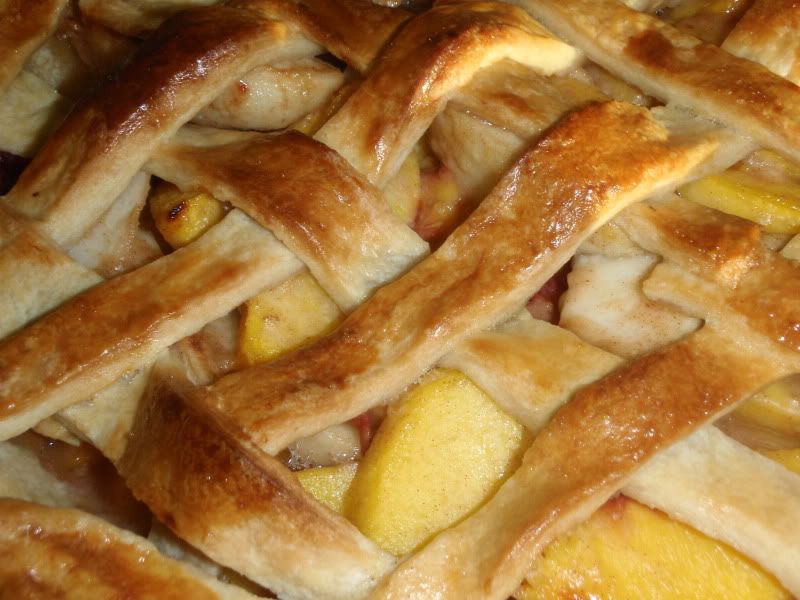 Double Crust, 9 inch
2.25 c all-purpose flour
3/4 tsp salt
3/4 c butter
8 T cold water

Mix the salt and flour. Cut in butter using pastry knife, food processor, or stand mixer until the mixture is crumbly. Add in water, one T at a time, until well combined. The dough should hold together and all the flour should be well-combined. Be careful not to over-knead. Divide dough in half and form two disks, one slightly larger than the other. Wrap each in plastic and refrigerate 30 minutes to an hour.



Filling


3/4 c granulated sugar
1/4 c all-purpose flour
1/4 tsp salt
1/2 tsp cinnamon
3 medium fresh peaches, peeled and sliced (about 2 cups)
2 large Granny Smith apples, peeled and sliced (about 2-3 cups)
1/4 c sliced almonds
1 T butter
1 egg, mixed with 1 T water

Roll one disc about 10-12 inches and place in pie pan (it should hang over the sides about 1 inch). Toss the peaches and and apples in flour, cinnamon, and salt. Pour filling into pie pan. (If using almonds, sprinkle over the mixture now). Roll out the remaining dough and weave into a lattice. Dot with butter as shown. Brush with egg mixture.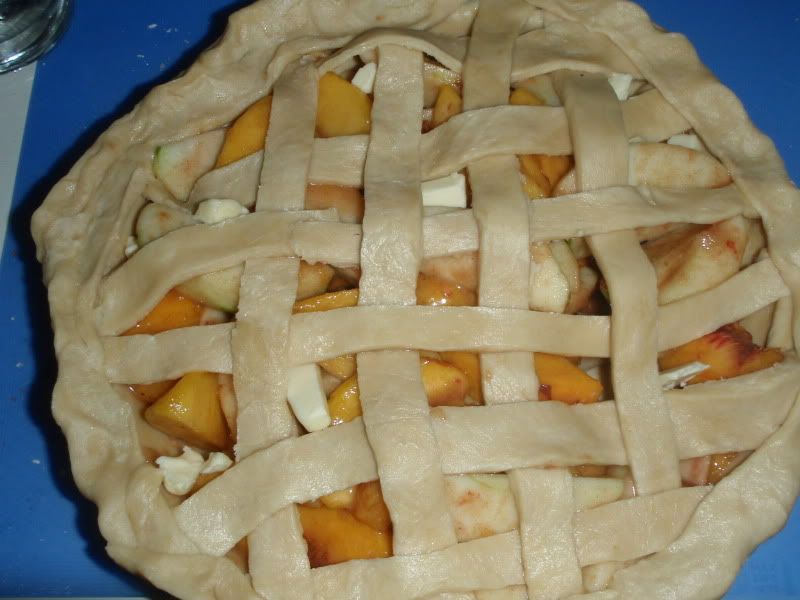 Bake at 425 degrees for 35-45 minutes, until the crust is brown and the insides bubbly. Cover the edges with foil if the crust gets too dark. Serve warm or at room temperature.