Welcome to the third recipe in my Sunday Supper Series. I've been cooking a lot more beef since my husband is a big beef eater and doesn't eat pork or fish. It's also quick and easy fast to throw a steak on the grill. That being said, reheated steak doesn't go over too well since he likes it extremely rare. Thus, when I stumbled across
this recipe
on the blog
Our Krazy Kitchen
, I had to try it. While I don't usually use pre-made bread products, since I was making the "filling" from scratch and it was only one layer of bread, I decided to try it. It wasn't too complicated and loved the outcome, but it made a bit too much for the small pot I was using. Thus, next time I may try it in the slow cooker. On to the recipe!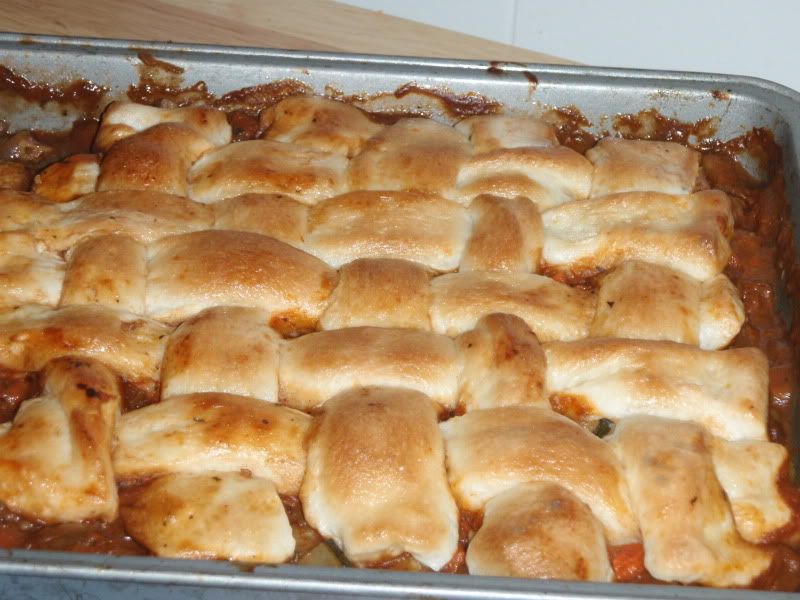 Ingredients
1 lb top sirloin, chopped into 1/2" squares
2 c zucchini, chopped
8 oz mushrooms, sliced
1.5 c carrots, chopped
3 cloves garlic, minced
1 tsp dried basil
1/2 tsp thyme
1/2 c red wine
1/4 c tomato paste
1.5 tsp Worcestershire sauce
1/2 tsp pepper
14 oz beef broth
2 tbs cornstarch
2 tbs water
1 can Pillsbury bread sticks
Olive oil
Directions
1. In a large pot or dutch oven, brown beef. Next add onions, carrots, mushrooms, basil and thyme. Cook about -7 minutes until veggies are beginning to become tender. Season with salt and pepper.
2. Add zucchini and garlic and cook for another 5 minutes.
3. Whisk together wine, tomato paste, and Worcestershire sauce. Add mixture and beef broth to meat.
4. Bring to a near boil, then simmer until everything is tender.
5. In a small bowl, whisk corn starch and water into a slurry. Add to meat mixture.
6. Cook for a few minutes until thickened.
7, Pour meat mixture into a 9 x 13 inch pan. Cover with bread sticks woven into a lattice form.
8. Bake at 400 degrees for 12-15 minutes until golden brown.

Serves 4.