I had these extremely cute mini cookie cutters for pies, so I made this chocolate cream pie for Christmas Eve dinner. We liked it so much that we had the rest of the pie with Christmas dinner. I used
this recipe
found at Cooking Light and my regular dough
recipe
.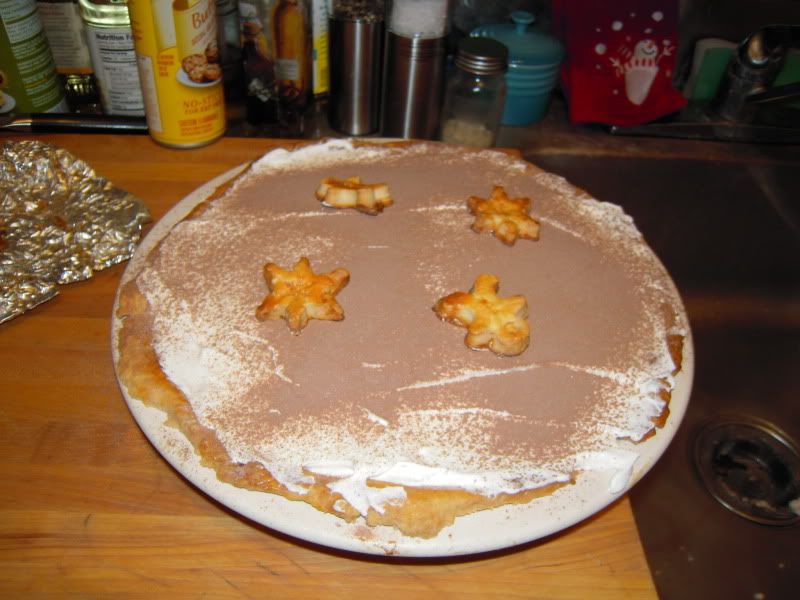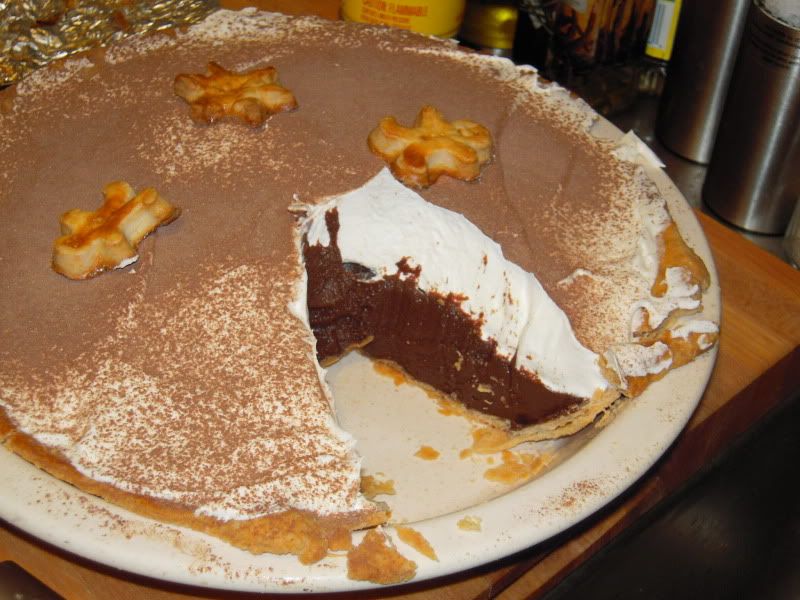 Ingredients
:
Pie dough for a single crust, blind baked for 15-20 minutes at 375 degrees
2 cups fat-free milk, divided
2/3 cup sugar
1/3 cup unsweetened cocoa
3 tablespoons cornstarch
1/8 teaspoon salt
1 large egg
2 ounces semisweet chocolate, chopped
1 teaspoon vanilla extract
1 1/2 cups frozen reduced-calorie whipped topping, thawed
Directions
Combine 1/2 cup milk, 2/3 cup sugar, and next 4 ingredients (2/3 cup sugar through egg) in a large bowl, stirring with a whisk.
Heat 1 1/2 cups milk in a heavy saucepan over medium-high heat to 180° or until tiny bubbles form around edge (do not boil). Remove from heat.
Gradually add hot milk to sugar mixture, stirring constantly with a whisk. Return milk mixture to pan. Add chopped chocolate; cook over medium heat until thick and bubbly (about 5 minutes), stirring constantly. Reduce heat to low; cook 2 minutes, stirring constantly.
Remove from heat; stir in vanilla. Pour into prepared crust; cover surface of filling with plastic wrap.
Chill 3 hours or until cold. Remove plastic wrap; spread whipped topping evenly over filling. Sprinkle with grated chocolate.