Happy 2011, everyone. I made these chocolate cupcakes for New Year's eve. The 9 year old who came didn't think the icing was sweet enough, but my auntie liked them a lot. They do not rise very much, so look a little like mini cakes.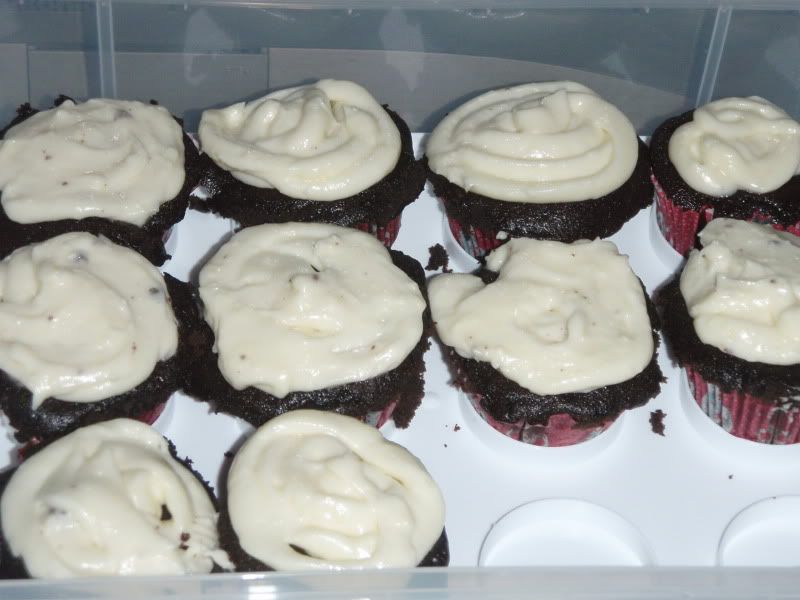 Ingredients
Cupcakes
1 1/3 c all-purpose flour
1/4 tsp baking soda
2 tsp baking powder
3/4 c cocoa powder
1/8 tsp salt
4 tbs butter, melted
1.5 c granulated sugar
2 eggs
3/4 tsp vanilla
1 c milk
Frosting
1/2 c butter, softened
8 ounces cream cheese
1-2 c confectioners sugar, sifted
1 tsp vanilla
pinch of salt
Directions - Cupcakes
Preheat oven to 350 degrees
Cream butter and sugar together in a large bowl. Beat in eggs and vanilla.
In a separate bowl, whisk together flour, cocoa powder, baking soda, baking powder.
Beat flour mixture into butter mixture, alternating with milk. Batter will be fairly thin.
Pour into prepared muffin tins. Bake for 15-18 (I had to go to 20) minutes until springy and a tooth pick comes out clean.
Set aside to cool.
Directions - Frosting
Cream butter, cream cheese, pinch of salt, and sugar together until cream. Add in vanilla. Refrigerate until desired firmness is achieved.

Makes 18 small cupcakes