I first tried this recipe from
Our Best Bites
over the summer and completely forgot to post about it. Though it isn't the same as the fried stuff we get from our local Chinese takeout place, it's very tasty and loads healthier. The first time I made the recipe, I omitted the crushed red pepper flakes since I thought my picky toddler might like it better. This time I included them since he'd eaten his dinner before this meal was ready. Both ways work, depending on your taste. I highly recommend the chicken baked with corn flake crumbs idea--I had a hard time preventing my husband from eating the chicken pieces while I prepared the sauce.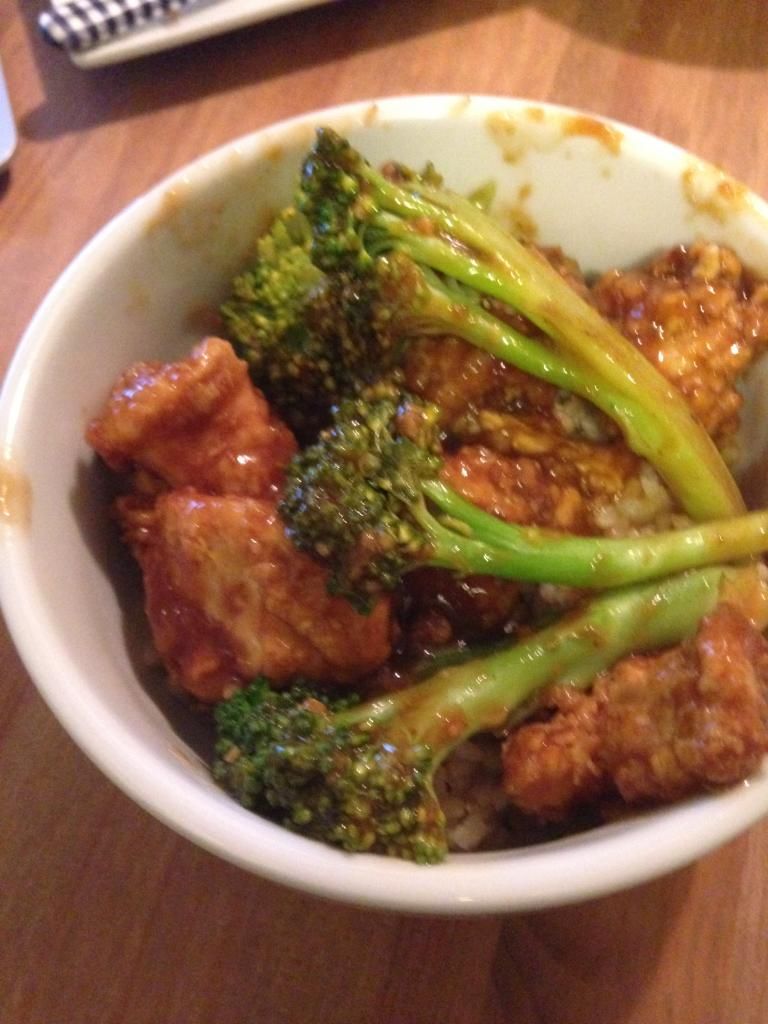 Baked General Tso's Chicken
1/4 cup all purpose flour
3 egg whites (or 2 whites plus 1 egg)
5 cups corn flakes, finely crushed
1 1/2 lbs boneless, skinless chicken breasts cut into 1-inch pieces
1 2/3 cup water
1/3 cup low sodium soy sauce
1/4 cup apricot jam
3 tablespoons hoisin sauce
2 tablespoons cornstarch
1 tablespoon balsamic vinegar
1/4 - 1/2 teaspoon powdered ginger
4 garlic cloves, minced
1/4 teaspoon red pepper flakes
salt and pepper
nonstick oil spray
Preheat oven to 475 degrees. Place a wire rack on a baking sheet lined with foil. Spray rack with oil spray. Pour flour into a shallow dish and season with salt and pepper. Whisk egg whites until foamy in second shallow dish. Spread corn flakes crumbs into third shallow dish.
Pat chicken dry with paper towels. Working in batches, dredge chicken in flour, dip in egg whites, then coat with corn flakes. Place on prepared wire rack.
Spray or brush chicken with oil. Bake until chicken registers 160 degrees and coating is brown and crisp, 12-15 minutes.
To make sauce, whisk water, soy sauce, apricot jam, hoisin, cornstarch, and vinegar together in bowl. Heat oil in 12 inch skillet over medium heat until shimmering. Add garlic, finer, and pepper flakes and cook until fragrant, about 1 minute. Whisk in soy sauce mixture, bring to simmer, and cook until thickened, about 2 minutes. Remove from heat, cover and keep warm.
When chicken is cooked, return sauce to simmer over medium-low heat. Add cooked chicken and toss to coat. Serve immediately.