This is my take on a recipe posted by What a Crock! It made enough to feed a dozen, which is why the author of What a Crock! recommended freezing half. Naturally, I didn't listen and now have a ton of leftovers that will hopefully freeze well. If I try this again, I will add mushrooms to the zucchini and eggplant and have listed them in the direction below.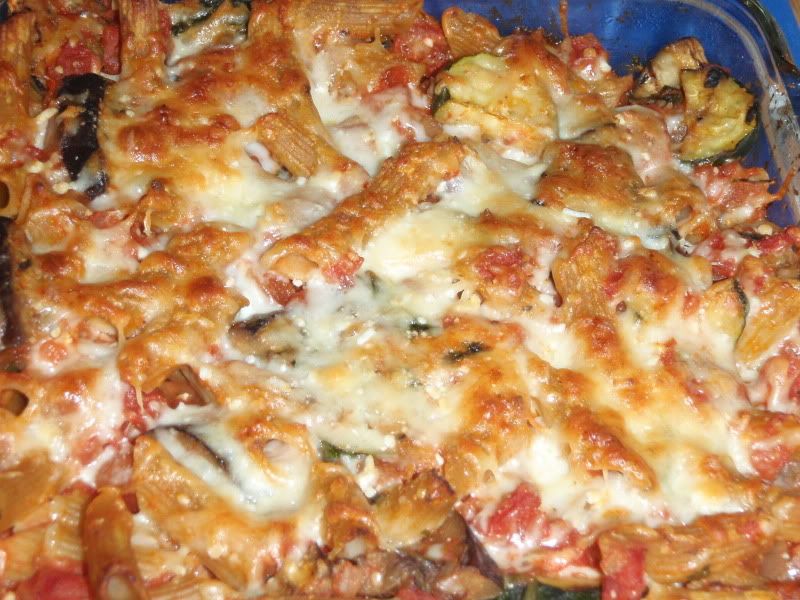 1 lb whole wheat pasta
1 medium to large eggplant, cut into 1/2" slices
2-3 medium zucchini, cut into 1/2" slices
12 oz mushrooms, cut into quarters
1 onion, chopped (I used white)
4 garlic cloves, minced
4 (14 cans diced tomatoes)
1/4 c italian parsley, chopped (or 1 tsp dried)
1/4 c basil, chopped (or 1 tsp dried)
2 tsp sugar
1/4 tsp crushed red pepper
16 oz shredded cheese (monzarella, parmesan, fontina mix)
salt, pepper, olive oil
Preheat grill or grill pan and oil as necessary. Salt eggplant and let set for 20 minutes. Wipe salt and press moisture out.
Grill zucchini, eggplant, and mushrooms in batches until tender. Set aside to cool while you make the sauce.
In a dutch oven or large skillet with 3 inch sides, saute onions in olive oil until tender. Add garlic and cook for 2 minutes. Stir in tomatoes, basil, parsley, crushed red pepper, and generous sprinkle of salt and pepper. Bring to a simmer and cook for 25 minutes on low. In the last five minutes sugar and adjust seasonings as necessary.
Spray two 9 x 13 " pans (or 1 rectangle and 1 square if you don't mind very full pans.
Layer 1/2 of the pasta, 1/2 of the sauce, and all of the veggies. Sprinkle with half of the cheese. Give the mixture a rough stir or two in order to distribute the cheese. Top with remaining pasta, sauce, and cheese.
Bake for 30-35 minutes until cheese is melted and golden brown.
Serves 10-12.