This recipe is adapted from this one that appeared in December 2008 Cooking Light. I've prepared it directly as printed and with several modifications based upon available ingredients, all with success. The balsamic vinegar really brings out the flavor in the prunes.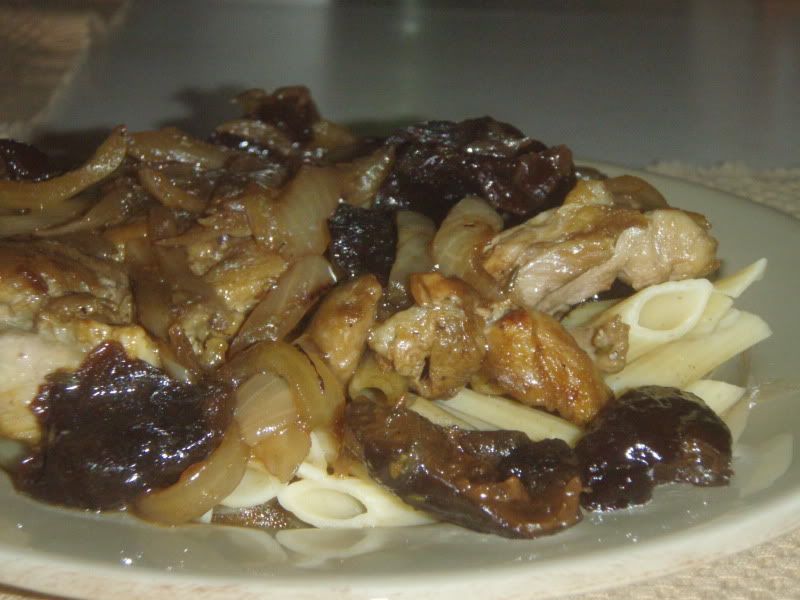 1 lb boneless, skinless chicken (thighs or breasts)
2 c onions, sliced (1-2 med)
2 tsp dried thyme or sage (or 2 TBS fresh)
12 prunes (dried plums), sliced in halves or quarters
1/2 c chicken broth (or 1/4 c each white wine and broth)
2 tsp balsamic vinegar
salt, pepper, olive oil
Sprinkle chicken with salt, pepper, and a little dried sage or thyme and brown in skillet over medium high heat. The chicken should be almost cooked through. Remove from pan and keep warm.
Add a little more olive oil to pan and saute onions until tender, about 3-5 minutes.
Add liquids to the pan and bring to a boil (this won't take long). Add prunes and remaining thyme/sage.
Return the chicken to pan. Cover and simmer on low for 15 minutes.
Serve with a sprinkle of parmesan over pasta, quinoa, or couscous.
4 servings.