This recipe has been adapted from the Southern Living Slow-Cooker Cookbook. I prepared the batch as directed, more or less, then added evaporated milk to half of the batch to make a cream soup (picture on the right). I also had a little less meat so I added more mushrooms and veggies. I liked them both although there's a missing spice that I can't put my finger on--maybe add a bay leaf? The recipe is printed how I prepared it.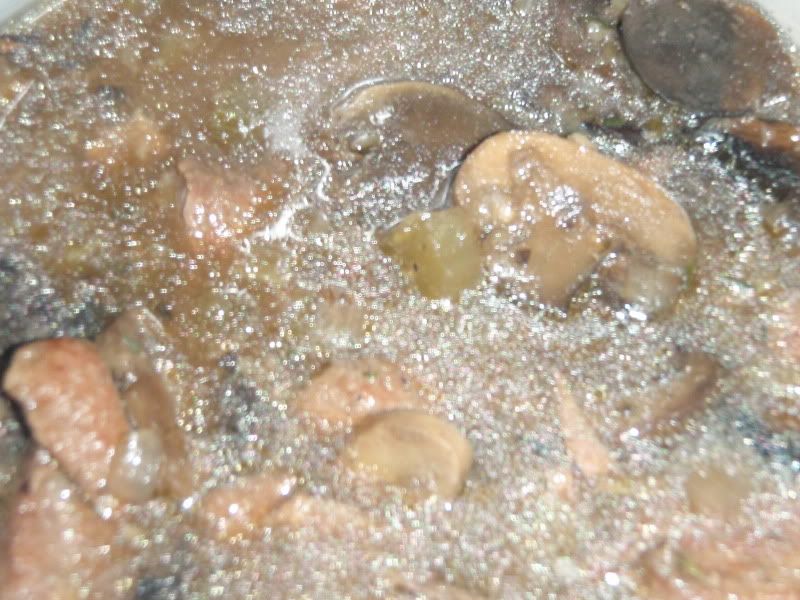 1.5 - 2 lbs stew meat (I went fancy and bought from Trade Joes)
1/4 c all purpose flour
1 large onion chopped
3-4 celery ribs, chopped
4 garlic cloves, pressed
28 oz beef broth
12-16 oz mushrooms (half baby bellos, half white)
2 tbs fresh thyme
(1 bay leaf--I didn't use, but might help)
1 tsp salt
t tsp pepper
olive oil
3/4 - 1 c evaporated skim milk (since I only added this to half a batch, I used .5 c)
Toss the meat in flour, then brown in olive oil. Transfer to slow cooker.
Saute the onion, celery, and garlic until almost tender, about 4 min.
Add veggies to meat in slow cooker, add remaining ingredients (except milk) and stir well.
Cook on low for 8 hours or until beef is tender. Depending upon the size of your cubes of beef, you may want to break them up a bit.
In the last 30 min of cooking, add milk. Adjust seasons as desired.
Serves 6-8.