This recipe was closely adapted from Southern Living's Slow-Cooker Cookbook. The recipe called for beef consomme and frozen pearl onions, which I didn't have. Thus, I used beef broth and a couple of tablespoons of tomato paste and yellow onions. The recipe wasn't untasty, just lacked a punch. If I try it again, I would up the spices and maybe add some cumin or something with heat. The dish thickened up nicely, so I did not add any flour at the end. As for a side, the recipe recommended serving with couscous, but I served it with some quinoa. (recipe at the end)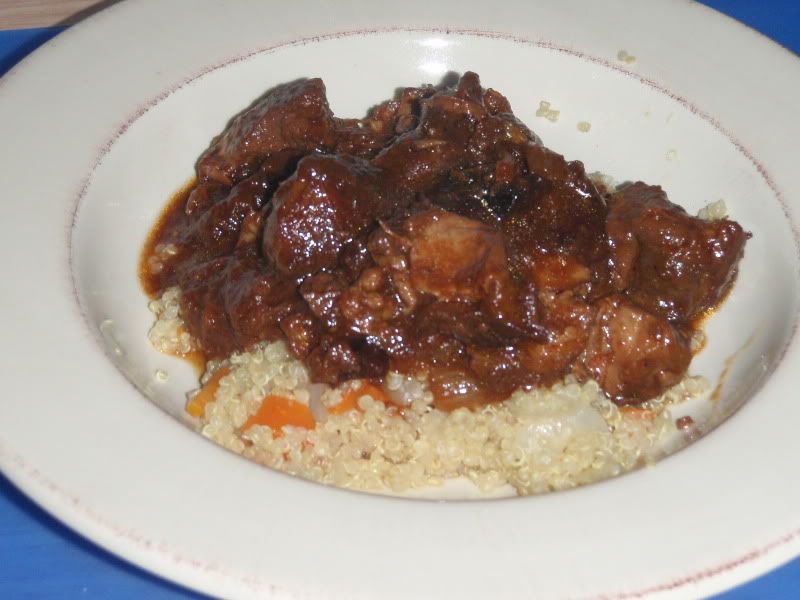 1.5 lbs boneless leg of lamb, cubed
2 Tbs honey
1/2 tsp ground cinnamon
1/2 tsp ground pepper
1/4 tsp salt
1/4 tsp ground ginger
1/4 tsp saffron threads, crushed
10.5 oz beef broth, mixed with 2 Tbs tomato paste
1 med onion, chopped
1/2 c prunes, cut into bite-sized pieces
Salt and pepper the lamb cubes and brown in a skillet coated with olive oil. Drain and add to slowcooker.
Whisk together honey - broth mixture. Pour over meat. Cook on low for 3-4 hours.
Add onions and prunes, cook another 2 hours until tender.
Serves 4.
Quinoa
1 c uncooked quinoa
2 med carrots, chopped
1/2 med onion, chopped
2 c chicken broth
Saute carrots and onion in olive oil until tender and beginning to brown. Combine all other ingredients with carrot/onion mixure and bring to a boil. Cover and cook on low for 25 minutes, until liquid has been absorbed.