This recipe is adapted from one that appeared in the latest BBC Good Food. I somehow completely neglected to add the oil and found the result extremely dry. However, a little pat of butter made these fantastic! My coworkers didn't mind them without the fat.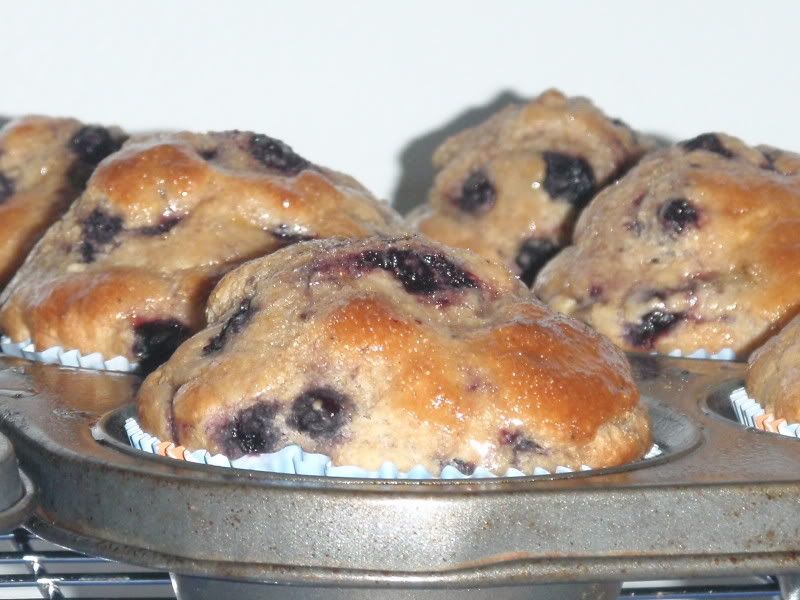 225 g self-rising flour
115 whole wheat flour
2 tsp baking powder
zest of half lemon, about 2 tsp
85 g granulated sugar, 1 Tbs reserved
59 g brown sugar
1 medium banana, mashed
5 tbs oil (canola, vegetable, rapseed)(no disaster if omitted)
284ml buttermilk (my measuring cup only had 250 and 300ml, so I had to eyeball this)
8 oz fresh bluberries (I used minis from Trader Joe's)
1 Tbs sugar, reserved above
Juice of half a lemon, about 1-2 Tbs
Preheat oven to 375 degrees (The recipe called for 400, but I think this is too hot).
Mix flours, baking powder, lemon zest together with the sugars. Separately mix buttermilk, oil, egg and banana together. Add the wet to the dry ingredients, being careful not to overstir.
Gently add in blueberries.
Using a cookie scoop, divide mixture evening among 12 prepared muffin cups. (They will be full).
Bake for 20-25 minutes until golden brown and a tester comes out clean.
While the muffins are baking, stir together reserved sugar and lemon juice. Immediately upon removal of muffins from oven, glaze with lemon-sugar mixture.
Cool for 10 minutes in tins before removing to cool completely on a wire rack.
Makes 12. Serve with butter if oil was omitted.