This recipe is from the box of Quaker Oats and is true and reliable. I lighten the eggs a bit, as noted, and sometimes use a little less sugar and wheat flour, but otherwise it stays the same.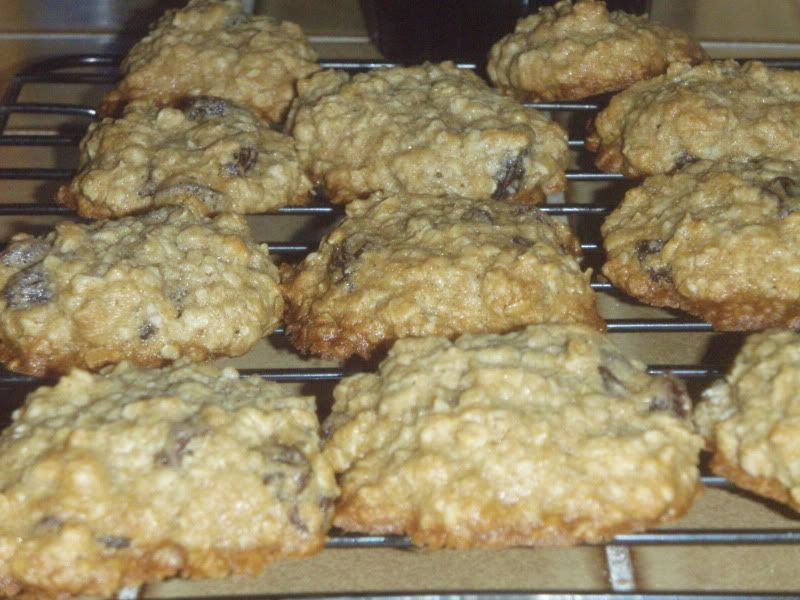 1 c butter, softened
1 c brown sugar (3/4 c)
1/2 c granulated sugar
2 eggs (1 egg, 2 whites)
1 tsp vanilla
1.5 c flour (1 c all purpose, 1/2 c wheat)
1 tsp baking soda
1 tsp cinnamon
1/2 tsp salt
3 c oatmeal (quick 1 minute oats)
1 c raisins (1.5 c)
Preheat oven to 350 degrees. Spray cookie sheet or use parchment paper.
Cream butter and sugar together. Add eggs and vanilla.
Separately, whisk together flour, baking soda, salt, and cinnamon.
Add dry to wet, mixing until smooth.
Stir in oatmeal and raisins.
Bake 10-12 minutes until golden brown. Cool for a minute on cookie sheet, then completely on a wire rack.
Makes 4-5 dozen, 1-2" cookies.