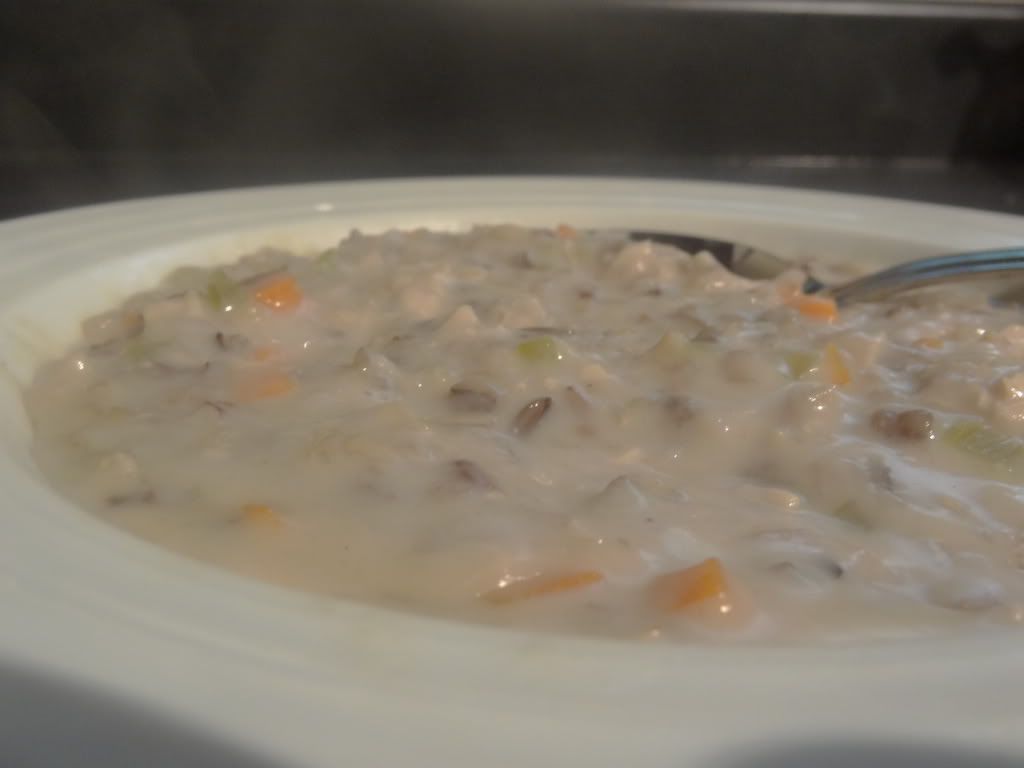 Hearty creamed soups full of veggies are what I crave on those crisp fall or winter days. This one satisfies that craving and provides a good dose of fiber, protein and veggies without a whole lot of fat. It's also perfect for using up those never-ending turkey leftovers. This year I whipped up a batch of this soup after Thanksgiving with every intention of freezing some for later in the season. But there was none left! Although cream soups aren't always the best for freezing, this one should do just fine as the actual milk product is minimal--most of the creaminess comes from stock thickened with a roux. I worked off this recipe from Allrecipes.com, but I increased the veggies and omitted a few ingredients which were unusual to me such as lemon juice and almonds.
2/3 cup uncooked wild rice
2 cups water
6 TBS butter
1 med onion, chopped
1-2 rib celery, chopped
1-2 carrots, chopped
1/3 cup all-purpose flour
4 cups chicken or turkey stock
2 cups chopped cooked turkey (or chicken)
1/2 tsp kosher salt, or to taste
1/2 tsp ground black pepper, or to taste
3/4 cup half-and-half
1. Bring wild rice and water to a boil in a small pot. Reduce heat to medium-low, cover, and simmer until the rice is tender but not mushy, about 40 to 45 minutes. Drain off any excess liquid, fluff the rice with a fork, and cook uncovered 5 minutes more. Set aside.
2. Melt butter in a medium dutch oven or soup pot over medium heat. Cook the onion and celery until the onion is translucent, about 5 minutes.
3. Stir in the flour, and cook until it turns a pale yellowish-brown color, 3 to 5 minutes.
4. Gradually whisk in the stock until no lumps remain. Add carrot. Bring the mixture to a simmer, and cook, whisking constantly, until the stock is thick and smooth and the carrots are tender, about 5 more minutes.
5. Stir in the cooked wild rice, turkey, salt, and pepper. Return to a simmer, and cook for 10 more minutes.
6. Stir in half-and-half and bring soup to a near boil. Adjust seasoning, as necessary.
Serves 4-6