I love my ice cream maker, but sadly had not had the space to make homemade ice cream in at least a month. it might be because there have been fantastic sales on
Breyer's Blasts
, which is a lowfat ice cream product loaded with candies. The Snickers and Oreo Cookies & Cream Chocolate flavors are my favorites, but they have more than a dozen--nearly all at less than 5 g of fat per serving. But I digress.
My auntie has a separate freezer of which I'm sorely envious. Because of all the space, she keeps not one but two ice cream freezer bowls frozen at all time! (In my little freezer, I can either had ice cream or a freezer bowl in the freezer due to minimal space). Thus while visiting her, I had to make ice cream! (or rather frozen yogurt)
This recipe is actually one for raspberry frozen yogurt which I found at the blog
Finding Joy in My Kitchen
. Frozen raspberries were ridiculously expensive, so we went with a mixture of frozen and fresh strawberries. The recipe calls for 3/4 c sugar, but I think you could get away with closer to 1/2 c of sugar. However, my auntie likes things sweet and it is true that once frozen the flavor becomes a bit muted so we used the whole amount with good results. However, if you're worried about the amount of sugar, I'd start at a tablespoon or two more than 1/2 c and go to slightly sweeter than taste.
the recipe made about 50% more than the 1.5 qt Cuisinart ice cream bowl could hold. I think it will be okay in my 2-qt bowl at home or at least most the mixture. We used the leftovers to make popsicles. All were quite yummy.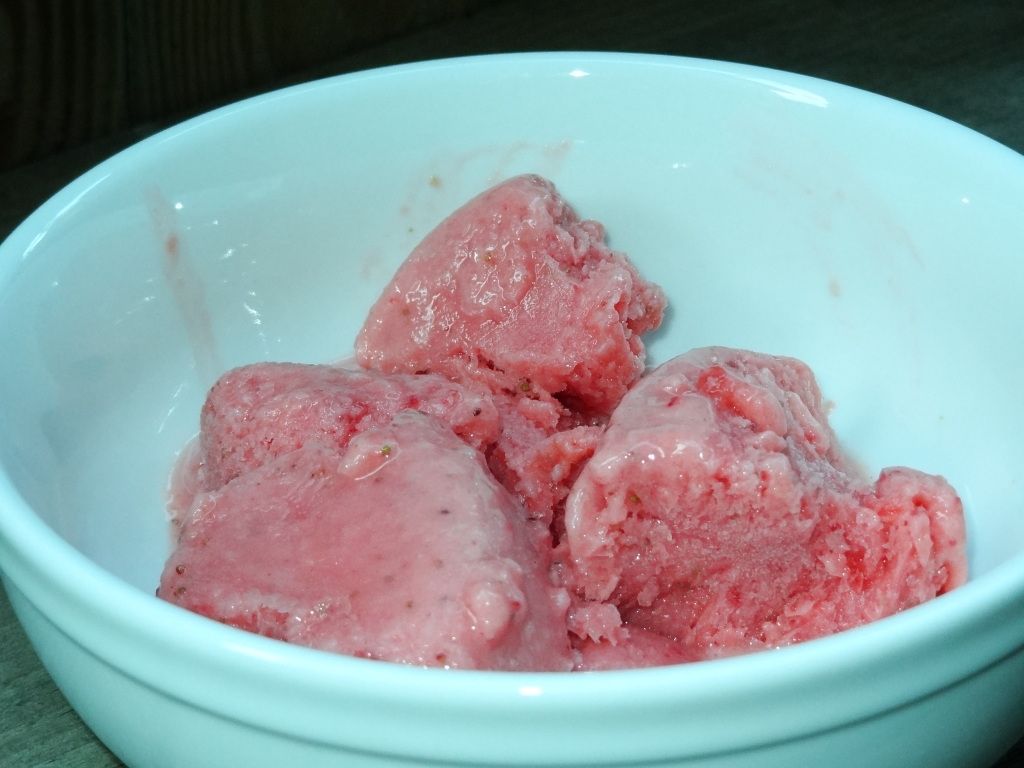 Strawberry Frozen Yogurt
2 C plain yogurt
3 C raspberries (or strawberries)
3/4 C sugar
1/2 C milk (I used 1/2 and 1/2)
Puree berries in a blender. If you are using frozen, put some of the milk and yogurt mixture in the bottom first or allow the berries to melt a bit first.
Whisk together remaining ingredients.
Pour into ice cream bowl and churn as directed by your ice cream maker's instructions. Serve as soft serve immediate or freeze until firm.
Makes about 10 cups.