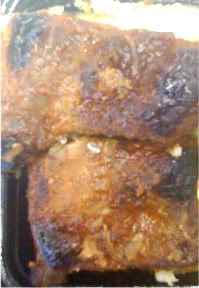 This has been adapted from a "BBQ with Bobby Flay" recipe called "Mike Mill's Beef Ribs." I use it on pork and beef ribs.
Dry Rub

1/2 cup paprika
1/4 cup kosher salt
1/4 cup sugar
1/4 cup powdered mustard
1/4 cup chili powder
1/4 cup ground cumin
2 tablespoons ground black pepper
1/4 cup granulated garlic
2 tablespoons cayenne pepper

Mix all ingredients and store in a tightly covered container. The last batch that I made has lasted me 3 months and 3+ batches of ribs.

Sauce

1 cup ketchup
2/3 cup rice vinegar
1/2 cup apple juice
1/4 cup apple cider vinegar
1/2 cup packed brown sugar
1/4 cup soy sauce (may sub Worcestershire)
2 teaspoons dijon mustard
3/4 teaspoon garlic powder
1/4 teaspoon ground pepper
1/4 teaspoon cayenne
1/4 of a medium granny smith apple, grated or finely chopped
1/4 of a medium onion, grated or finely chopped
1/4 of a green bell pepper, grated or finely chopped.
1-2 T honey
Combine the ketchup, rice vinegar, apple juice, cider vinegar, brown sugar, soy sauce, mustard, garlic powder, white pepper, cayenne in a medium pot. Boil over medium-high heat. Stir in the apple, onion, and bell pepper. Reduce the heat and simmer, uncovered, 10 to 15 minutes or until it thickens slightly. Stir in honey, and add salt and pepper to taste.
Preparation
1.Several hours up to the night before, rub the ribs generously with the dry run. Refrigerate until ready to prepare.
2. In a 250-300 degree oven, bake the ribs covered until tender. This will take 2-3 hrs.
3. Coat ribs liberally with sauce.
4. On a screaming hot grill or under the broiler, cook until desired charring occurs. Brush with more sauce for serving.