This recipe has been adapted from a Betty Crocker recipe.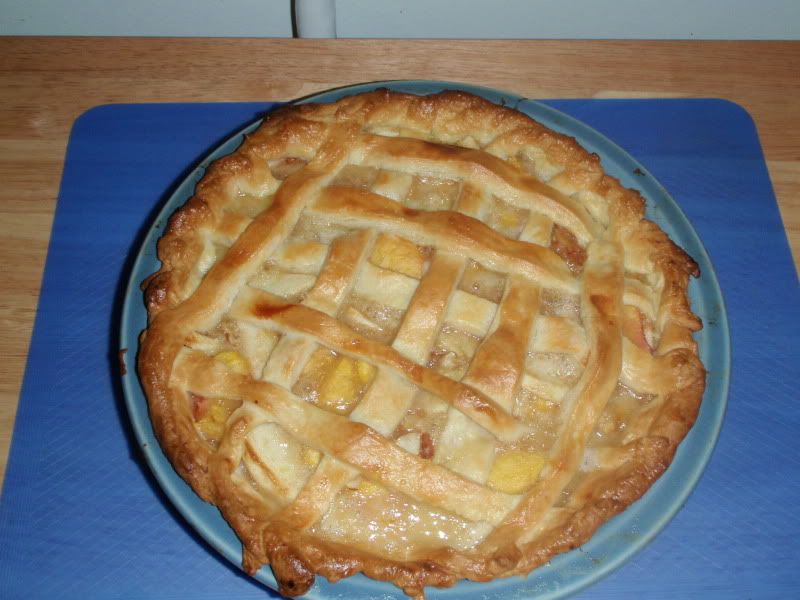 Crust
2 cups flour
1/2 tsp salt
3/4 c butter or shortening, cut into pieces
5-6 Tbs ice water
Combine ingredients in order above, adding enough water and mixing until smooth and elastic. Form into two small balls, wrap in plastic, and refrigerate for an hour. Roll one ball until it fits neatly in the base of your 10" pie pan with some overhang to crimp later.
Filling
2 large peaches, peeled and sliced
3 medium to large apples (Granny Smith or other tart apple), peeled and sliced into 1/4-1/2" pieces
3/4 c sugar
1/4 c flour
1/2 tsp cinnamon
pinch of salt
1/4 cup thinly sliced almonds
1 Tbs butter, cut into small pieces
1 Egg
Splash of water
Gently toss peaches, apples and almonds with sugar, flour, cinnamon and salt. Add mixture to crust and dot with butter.
Roll out the other ball of dough, cutting 3/4' strips to create a lattice top. (You could weave them for the most professional effect; I merely draped them). Brush top with mixture of beaten egg and water.
Bake at 425 degrees for 35-45 minutes, until the crust is brown and the insides bubbly. Cover the edges with foil if the crust gets too dark. Serve warm or at room temperature.