This recipe has been modified from a library book, "SlowCooker Cooking" by Lora Brody.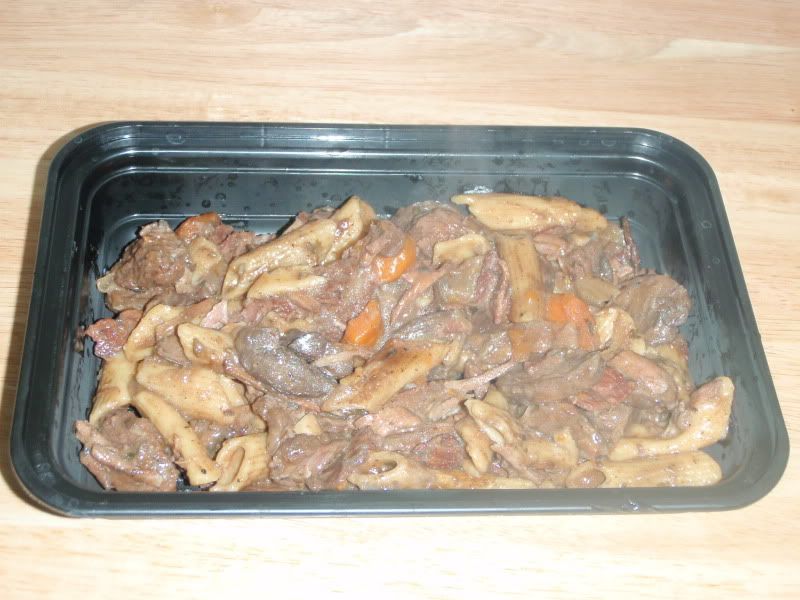 I didn't remember to take pictures until I was packing up the leftovers for the freezer.
Marinade
1 large carrot, peeled and chopped
3 garlic cloves, crushed
2 cups dry red wine
1 bay leaf
3 springs of thyme and italian parsely
3 lbs of boneless chuck roast, cut into cubes
Combine the above, and refrigerate in a ziploc bag for 6 hours or overnight. Then drain, reserving the wine, meat, veggies, and herbs.
Main preparation
Reserved meat, veggies, and wine
1 large onion, roughly chopped
8 ounces baby bella mushrooms, sliced
4 ounces pancetta or good bacon
2 cloves of garlic, minced
3 T flour
1 c beef broth
1/2 lb whole wheat penna or farfelle
Cook the pancetta or bacon until crisp. Add to slow cooker. Brown the meat, in batches if necessary. Heat a bit of olive oil and saute veggies. Remember that garlic burns easily, so add it last. Place all remaining ingredients in the slow cooker, including the reserved wine and herbs. Mix to combine.
Cook on high for 4-6 hours or on low for 8, stirring occasionally.
During the last hour, add the dry pasta and cook until the pasta is tender.