You might have noticed that a number of recipes this week involve buttermilk. It all started because I wanted to make Cheddar Biscuits with Sage for dinner one night. The smallest container of buttermilk that they had was a quart, so since then I've looked for other recipes to use up the remaining. Today's objective was two-fold--use the remaining buttermilk and use a bunch of apples that I had bought for snacking during the week, which would likely go bad because I'm going home tomorrow. The result was a marvelous pancake recipe that's not too sweet or dry, which I found at the Joy of Baking. Enjoy!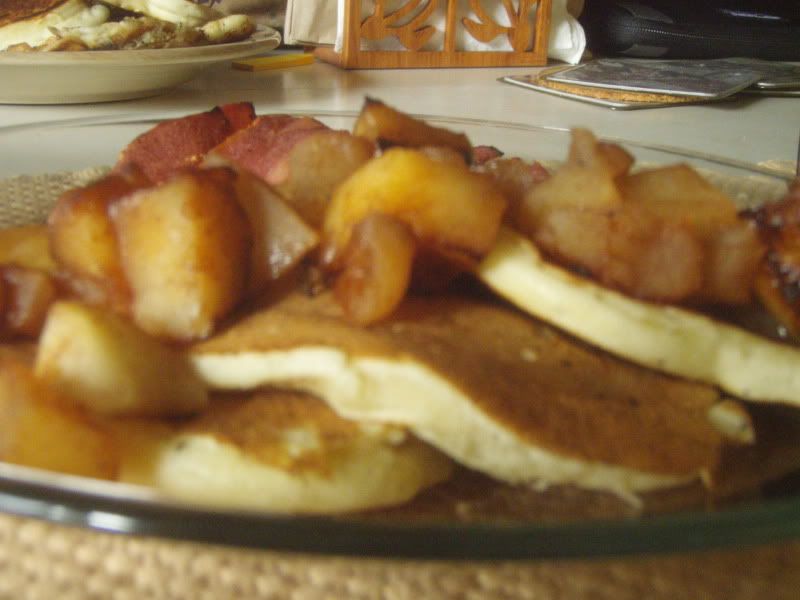 Apples
3 medium Granny Smith Apples, peeled and chopped
2 Tbs brown sugar
2 tsp cinnamon
1/4 tsp salt
In a skillet over medium heat, add apples and cook for 2 minutes until apples begin to soften. Sprinkle salt, cinnamon and sugar over the apples and toss well to combine. Cook for another 2-3 minutes.
Cover and reduce heat to low and allow apples to soften into a compote-like substance while you make the pancakes.
Pancakes
1 c flour
2 Tbs sugar
1 tsp baking powder
1/4 tsp baking soda
1/4 tsp salt
1 egg
1 c buttermilk
3 Tbs butter, melted
Whisk together dry ingredients. Make a well in center; add the egg and beat it slightly. Gradually pour in the buttermilk and melted butter, whisking until well batter is smooth.
Cook for 1-2 minutes per side on a preheated, sprayed griddle or skilled. This is a thick batter, so you will need to watch the pancakes carefully and possibly flip before bubbles depending upon your heat source.
Makes 2-4 serving of pancakes with apples. Serve with syrup, if desired.