This sauce is closely adapted from "The Food You Crave" by Ellie Krieger. Apparently, Krieger had a short-lived Food Network show. The book, however, is marvelous--simple, healthy recipes, that appear to pack a lot of flavor into basic ingredients. I still haven't tried the recipe I bought the book for, Miso-Glazed Cod (or something like that), but I'm impressed thus far.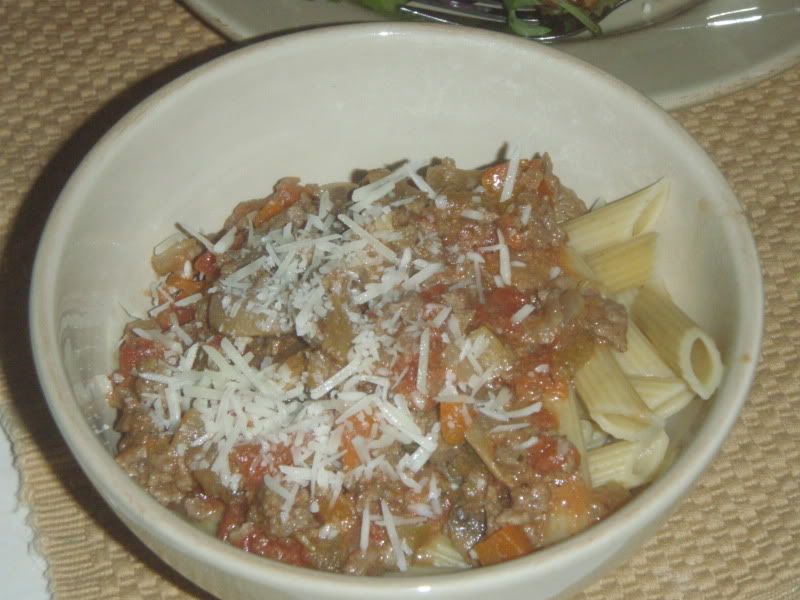 1 lb pasta (whole wheat or smart taste)
1 lb ground beef (85 or 90 % fat free)
1 med onion, chopped finely
2 med carrots, chopped finely
2 stalks celery, chopped finely
28 oz diced tomatoes
8 oz button mushrooms, sliced
1/2 c chicken broth
1/4 c evaporated milk
4 cloves garlic, minced
2 tsp dried thyme
salt, pepper, olive oil
Saute onion, carrot, and celery in olive oil over medium high heat until softened. (Do this while you clean and slice the mushrooms or about 5 minutes).
Add mushrooms and cook another 5 minutes until they have released some of their moisture--mixture will be slightly golden brown. Sprinkle with salt.
Add ground beef, thyme and garlic. Sprinkle with salt and pepper. Cook until meat is browned about 5 minutes.
Add tomatoes and broth. Cook for another 4-6 minutes until thickened. Lower heat and add evaporated milk. Adjust seasonings as desired.
Serve over pasta that has been cooked al dente.
6-8 servings