A couple of weeks ago, we had a friend over for flank steak and scalloped potatoes. Yes, there was a veg too, but it wasn't too exciting so I don't recall. The
flank steak marinade recipe
is from Rachel Ray–-really the first recipe that I ever used of hers and one I still use today. The scalloped potatoes were out of my head, but our friend loved them, so I promised to post the recipe/method. It took me awhile to get around to it, but here it is: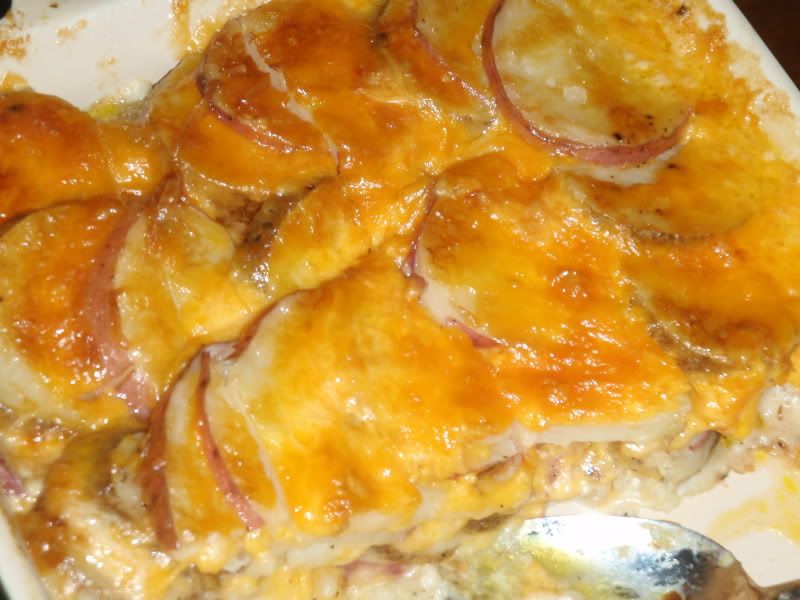 Ingredients
1-2 lbs potatoes (use a mix of red and idaho, if possible)
1 c milk (I use skim or 2%)
12 oz shredded cheddar cheese (or a mix, I may also have used parmasan)
Salt and pepper
3 tbs flour
1-2 tbs butter, if desired
Directions
Preheat oven to 400 degrees.
Slice potatoes to about 1/8" thick. Cover the bottom of a 9 x 13" baking pan, that has been coated with cooking spray, with potatoes, allowing them to overlap slightly. Sprinkle with salt, pepper, and half of flour. Scatter a thin layer of shredded cheese.
Repeat for another layer or two until pan is filled. Salt, pepper, and flour again.
Pour milk over mixture; top with shredded cheese.
Cover and bake for 45 minutes or until potatoes are fork tender. Uncover and bake for an additional 10-15 minutes until cheese is golden.

Serves 4-6