Welcome to the second recipe in my Sunday Supper Series. As I mentioned last week, my goal is to get into a better routine of posting. This week I tried a
recipe
from one of the blogs I follow in my Google Reader. Her blog is called
Finding Joy in My Kitchen
, and while it's a fantastic recipe, I messed it up a bit and wound up with a wonderful pasta dish instead of the intended soup. Anyway, she calls it Lasagna Soup. However, since I added way too much pasta, mine definitely wasn't soup. I also only served it with cheese the first time we ate it. Sorry the pictures are from my desk at work. For some reason I neglected to snap a picture immediately after I made it. The ingredients list below reflect what I did to get a pasta dish. If you'd like to make soup, head over to
her blog
. Have a great week!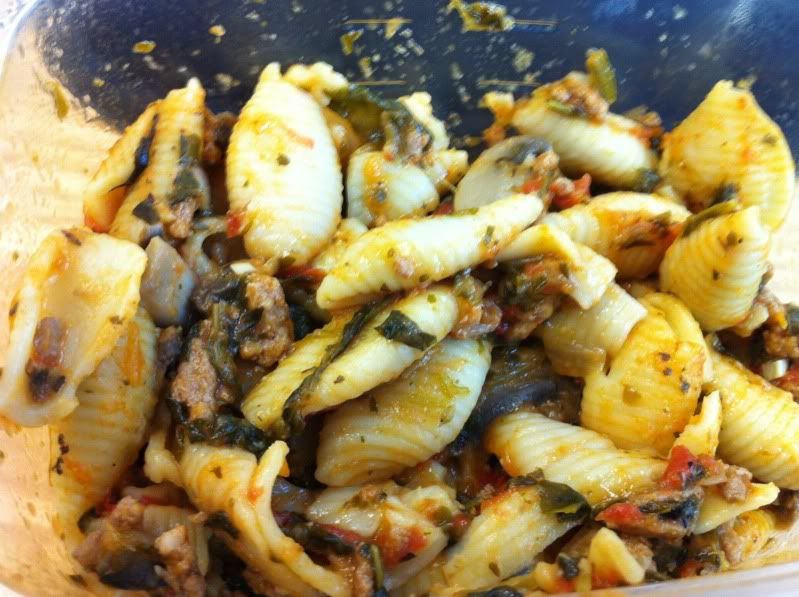 Ingredients
1 lb ground turkey or Italian sausage
2 onions, chopped
4 garlic cloves, minced
2 tsp oregano
1 bay leaf
2 tsp basil
1/2 tsp crushed red pepper
2 Tbs tomato paste
28 oz diced tomatoes
1 med green bell pepper, diced
8 oz mushrooms, sliced
1 c frozen spinach
8 c turkey broth
12 oz pasta shells
olive oil, salt, and pepper
Cheese to serve
Directions
1. Brown meat in olive oil. Season liberally with salt, pepper, 1 tsp basil, and 1 tsp oregano if not using sausage. Remove from pan and drain, if desired.
2. Saute in olive oil onions, garlic, bell pepper, mushrooms and oregano for about 5 minutes. Sprinkle with salt and pepper.
3. Return meat to pan and add tomato paste. Cook for 3 minutes.
4. Add tomatoes, broth, and bay leaf.
5. Heat to a near boil, then reduce heat and simmer for 30 minutes.
6. Raise heat to medium high and add pasta. Cook for 7-9 minutes, depending on desired firmness of pasta.
7. Add spinach and basil. Adjust seasoning as needed.
8. Serve with cheese, if desired.
Serves 6-8