Sorry for the delay in posting. I was out of town for a mere 4 days, but somehow I'm nearly two weeks behind in blogging. My only explanation is that we ate out so much while in Hawaii that I only cooked once and made a veggie pasta recipe that I had tried a little more than a month ago. I'm also working on emptying out my freezer here, so not too much cooking. Anyway, this recipe is adapted from one I found on the William Sonoma website. I simplified the recipe a bit based on what I had on hand. I also began preparing it in the morning and had to run to work. Thus, before pureeing, the soup was refrigerated for about 8 hrs. I don't recommend this step, although cooling the soup allowed me to use the blender which is a lot faster than an immersion blender. All in all, this recipe was most tasty and I will definitely try it again.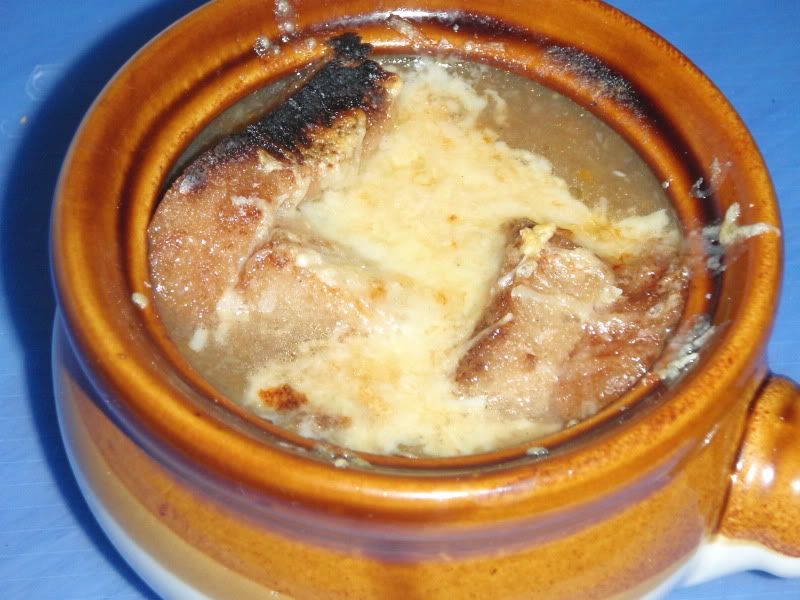 1 lb onions, about 3 medium, diced
2 med carrots, diced
2 celery stalks, diced
4 cloves garlic
2 lbs mushrooms, sliced
1/4 c Marsala
1 bay leaf
7 c chicken broth
salt, pepper, olive oil
Gruyere cheese and day-old French bread to serve
1) In a large dutch oven, saute onions over medium heat until softened and caramelized, about 30 minutes.
2) Add celery, garlic, and carrots and cook until softened, about 6 minutes.
3) Add Marsala wine and cook until mostly evaporated, 2 minutes
4) Add mushrooms and cook until softened and liquid has evaporated, about 10 more minutes.
5) Season mixture with salt and pepper. Add chicken broth and bay leaf. Heat to an almost boil. Simmer on low for 25 minutes.
6) Using an immersion blender or carefully with a regular blender, puree soup until smooth. Adjust seasoning to taste.
7) To serve, top with toasted bread cubes and a generous sprinkle of cheese. Broil for a few minutes until golden brown.
Serves 6.