I'd been wanting to try
this recipe from the Baker Chick
ever since I woke up with a craving for cinnamon rolls while staying at my in-laws home last month. However, there just never seemed enough time (and apparently some pantries lack what I consider staples). Once I finally tried this recipe, visually these muffin/rolls did not disappoint. Taste-wise, I found them doughy and a little tough. However, I may have cut them too thick, which is why I'm posting this recipe and just may try them again. Plus, my husband ate at least 5-6! They also can be whipped up in about 30-45 minutes, which you obviously can't do with a yeast dough. Alternatively, I may try
this recipe
instead. Here's the recipe I tried:
Cinnamon Muffin Rolls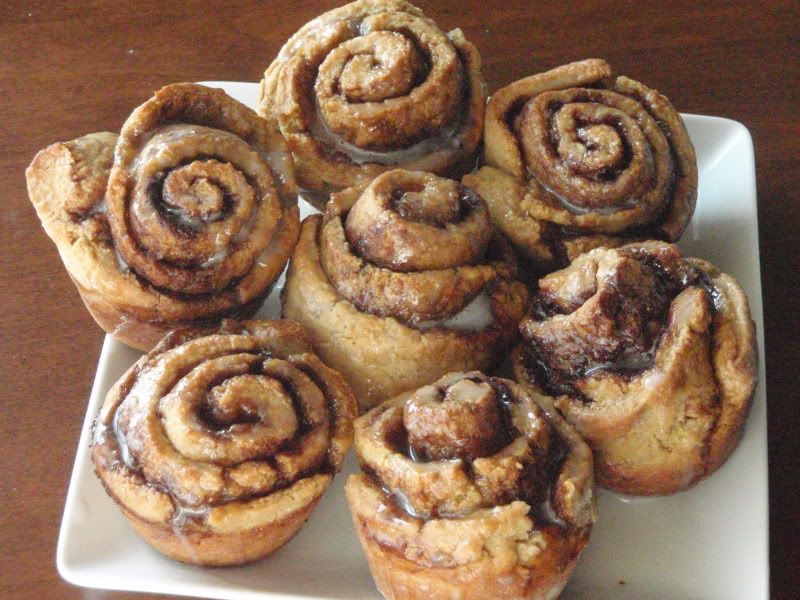 Dough
1 cup buttermilk
1/2 cup brown sugar
1 tsp. baking soda
1/2 tsp. salt
1/2 tsp. vanilla
1 egg
3 cups flour plus more for dusting
Filling
2 tbsp. butter, room temperature (another tbs or two would probably help)
2/3 cups brown sugar
3/4 tsp. ground cinnamon
Icing
1 cup powdered sugar
2-3 tbsp. milk or cream
Preheat oven to 375° F.
Whisk together the brown sugar, baking soda, salt, vanilla and egg into a mixing bowl. Add the buttermilk. . Add the flour. Stir until thoroughly combined - do not over mix!
Turn dough out onto a lightly floured surface and knead for a minute or two. Roll the dough into a 12-inch by 24-inch rectangle. Using a rubber spatula, spread with butter. Sprinkle with sugar and cinnamon.
Roll the dough into a log and stretch slightly. Cut into two-inch pieces (next time I'd go with 1-1.5") and put the pieces into a greased muffin pan or muffin liners.
Bake for 15 minutes, or until golden brown. Allow the muffins to cool for 5 minutes, and then remove from the muffin tins.
Drizzle with icing when cool.
Makes 8-12 muffin rolls.