While I was away last week I really missed my breadmaker (and my husband,I guess ;p). When thinking about what bread to make this week, I suddenly had a craving for a honey-oat bread. This recipe from
The Bread Machine Bible
fit the bill perfectly. The only minor downside is that it's baked in the round in the oven, which makes the process a bit more labor intensive. I'm not sure why it couldn't be baked completely in the breadmaker, although it requires a second rising so you might have to adjust that setting on your machine. (I don't remember if that's the normal setting or not on mine--I just turn the machine on and 3-4 hrs later there's bread). Anyway, the end product is very yummy plain or with a smidge of butter. Enjoy!
Honey-Oatmeal Bread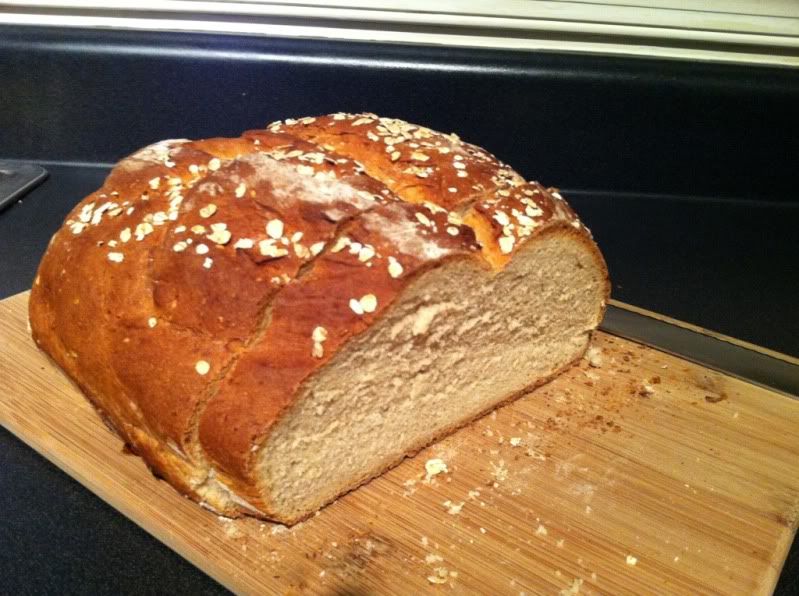 1 c water
7 TBS milk (plus extra for glazing)
2 TBS honey
3 1/2 c whole wheat bread flour (I used 2 c white bread flour and 1.5 whole wheat)
1 c rolled oats (plus more for sprinkling)
1 1/2 tsp salt
1 tsp sugar
2 TBS butter, diced
1 1/2 tsp instant dry yeast
Place water, milk, and honey in the base of your breadmaker. Top with flour(s) and oatmeal. Place salt, sugar, and butter in different corners. Make a mound in the middle of the flour for your yeast.
Set machine on dough cycle.
When dough is ready, punch down on a floured surface. Shape into a ball. Place on cookie sheet and leave to rise until doubled in size. Mine took about an hour (I set the timer for 40 minutes, then let it continue to rise while the oven preheated).
Preheat oven to 450 degrees. Make a cut down the middle of the dough. Brush with milk and sprinkle with oats (I used quick oats).
Bake for 10 minutes, then reduce the oven temperature to 400 degrees. Continue baking for 20-25 minutes or until bread is risen, light brown, and sounds hollow when tapped.
Cool on a wire rack.