Well, it's Sunday morning. How about some pancakes? Periodically, I attempt to find a healthier pancake recipe. However, I'm not brave enough to go for the oat bran sort or super fancy grain. However, a little wheat germ or oatmeal seems harmless enough. A few months ago, I tried
this recipe
, adapted from Tracey's Culinary Adventures. It call for pre-soaking the oats (like most recipes which incorporate oatmeal), and I wasn't especially keen about the texture--it was incredibly hearty, rather than light and fluffy. Today's recipe is originally from
The Happy Housewife
and calls for grinding the oats in your food processor prior to incorporating them into your batter. I probably ground them too fine as this recipe was almost too light--in other words, because they were "oatmeal" pancakes, I was looking for some extra texture. However, it you're trying to "sneak" oatmeal into your family's diet. One of the things I especially like about this recipe, however, it that it was perfectly proportioned for 2-3 people. After breakfast, I had about 4-5 pancakes leftover for the freezer. Try it and let me know that you think!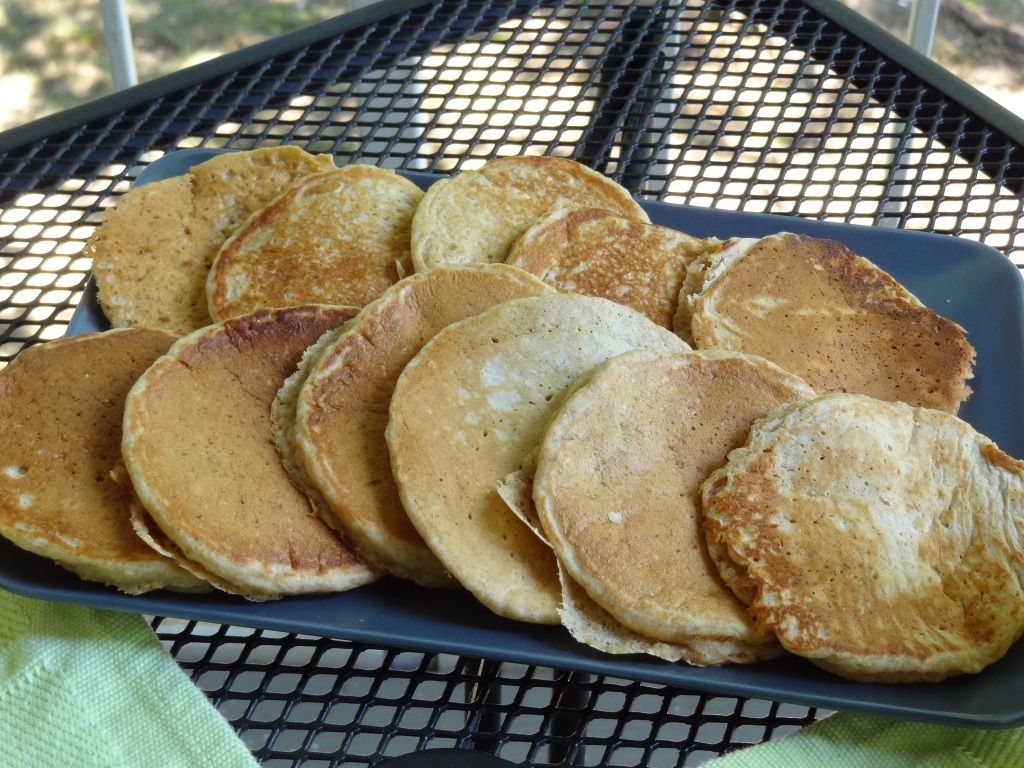 1/2 cup oatmeal
3/4 cup whole wheat flour
1/4 c all purpose flour (or you could use all wheat)
1/4 cup brown sugar
2 teaspoons baking powder
1/2 teaspoon salt
1 egg, lightly beaten
1/4 cup applesauce
1 1/4 cups milk*
Grind oatmeal in food processor until desired texture is reached--not too fine if you want it to add texture. Whisk together flours, baking powder, sugar, and salt.
Add egg, applesauce, and milk. (I make a hole in the center of my flour mixture and gently incorporate egg and apple sauce before adding the milk.) Stir well to combine.
Cook on a preheated griddle until golden brown and cooked through.
*
Note
: you may want to use more or less milk than called for in the recipe, depending on the desired consistency of your batter, humidity, and types of flour and oatmeal. The original recipe calls for 1 1/3, although many commentators reported using much less. I was happy with 1 1/4 c.
Serves 2-3