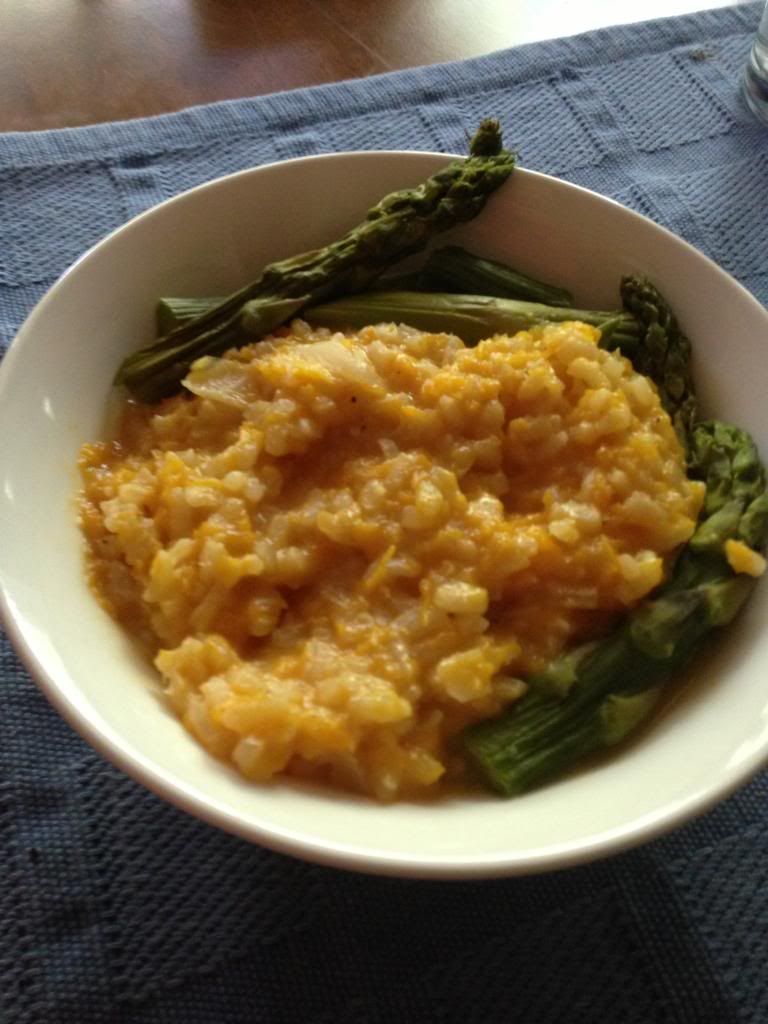 Happy Friday! I know it's practically summer, but I have another comfort food-type recipe for you today.
For dinner yesterday evening I had intended to make Butternut Squash Raviolis. Yet another post I will get around to writing one of these days. Basically, I roughly follow this Emeril recipe and make my own ravioli dough. Anyway, I intended to make raviolis, but by 5:30 p.m., it just wasn't happening. However, I had already defrosted the roasted butternut squash--typically I buy a sizeable butternut squash (2-3 lbs), roast the entire thing, use half for whatever recipe I'm making and then freeze the rest. So I hit the web for something easier I could make using the roasted/mashed squash.
I came across this slide show from Martha Stewart, which gave me a number of ideas, including butternut squash mac 'n cheese and these tasty-sounding pot stickers. Alas, I didn't have any wonton wrappers, which I also could have used to make raviolis had I had them. Then I came to her butternut squash risotto recipe. It looked quite tasty, but called for chunks of squash to be cooked with the rice whereas my veg was already roasted. I then found this recipe at All Recipes.com, which called for cooking and mashing the squash in the first step. Close enough! I switched up the method a little by adding in the roasted squash at the end instead, which I think made it a heartier or at least prettier dish, but either way works. This dish is great as a side or a meatless main.
Butternut Squash Risotto
1 lb butternut squash, roasted
2 tablespoons butter
1/2 onion, minced
1 cup Arborio rice
1/3 cup dry white wine
5 cups chicken stock (I used beef as that was all I had)
1/4-1/2 cup grated Parmesan cheese (a large handful works)
Salt and pepper to taste
If you're not familiar with preparing risotto, it's a two-pot process. In one saucepan you'll saute your veggies and then prepare the risotto. In a second, smaller pot, you'll keep the broth/stock simmering on low so it's warm when you add it to the rice, which allows it to be absorbed faster (I think). If you add cold liquid, I believe your end result will be mushy and not the nice Melt the butter in a saucepan over medium-high heat. Add onion; cook and stir for 2 minutes until the onion begins to soften, then add in the rice. Continue cooking for another few minutes until the onions are beginning to brown.
Pour in the white wine; cook, stirring constantly, until it has been absorbed by the rice. Add 1 cup of the hot stock to the rice and cook, while stirring, until the liquid has been absorbed, 5 to 7 minutes.
Reduce heat to medium and add another cup of the remaining chicken stock. Continue stirring until the liquid has been absorbed. Keep adding the remaining liquid in 1 cup amounts, always waiting until the liquid is absorbed before you add more liquid. You will notice that the rice "drinks" the liquid quickly at the beginning, then slows down considerably. Continue this process until the risotto is creamy but still has a slight bite to the rice. You may not need all of the liquid. My total cooking time for the brand of arborio rice I buy is usually about 25-30 minutes.
Stir in the roasted squash and cheese until thoroughly incorporated and the squash is warm and the cheese melted. Season with salt and pepper to taste.
Serves 4