Each month, sometimes twice a month, Williams Sonoma offers a cookbook class. You receive a cookbook, usually a recent one, and enjoy a meal prepared for you from recipes in the book. This month the featured cookbook was
Meals in Minutes by Jamie Oliver
which won't be released until October. The cookbook itself is rather interesting and quite novel. Instead of individual recipes, each page is a plan for a full meal to be prepared in 30 minutes. It gives you a list of all the ingredients for each recipe and then tells you how to prepare everything at once. It's great if you're preparing the entire menu, but somewhat challenging if you only want to prepare a component part since individual cooking times are often not listed. Nonetheless, there are a bunch of interesting dishes that seem worth the time, including this one for roasted tomato soup.
My auntie loved this recipe, although I wasn't too enthused. The balsamic vinegar certainly gave it an interesting tang. Possibly if the tomatoes were sweeter or if I had caramelized the onions, I might have liked it better, but it was just too strong as it--basil and balsamic vinegar were the most prominent flavors. Alternatively, if I made it again, I might thin it out with some chicken stock.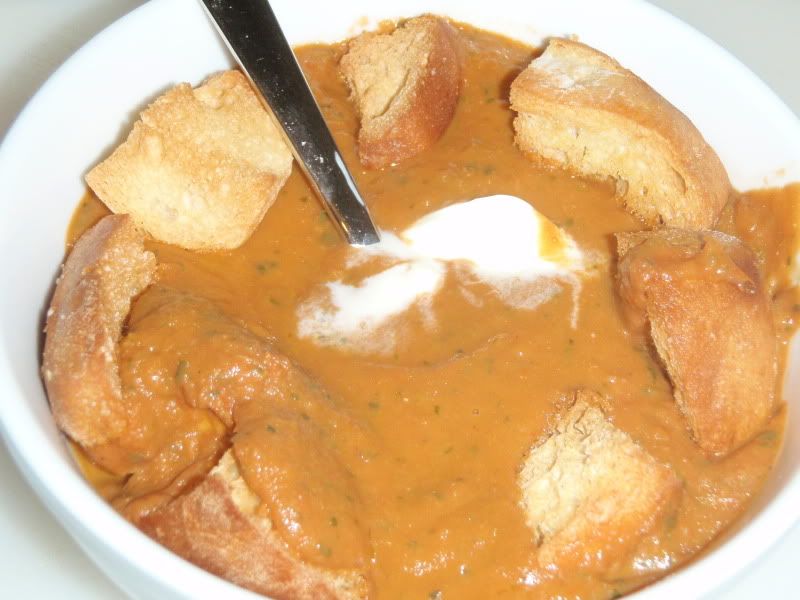 2.25 lbs cherry tomatoes
4 large tomatoes
4 cloves garlic
1 ciabatta loaf
2 small red onions, chopped
1/4 c balsamic vinegar
2 TBS tomato paste (my addition)
1/2 c - 1 c fresh basil
4 tbs of creme fraiche or to taste
salt, pepper, olive oil
Preheat oven to 425 degrees.
Chop large tomatoes in half or in quarters. Drizzle with olive oil and season with salt and pepper. Peel and crush (lightly) garlic cloves and toss together with tomatoes. Roast for 15 minutes on the top rack.
Chop or tear ciabatta into crouton-sized bites, drizzle with olive oil and a pinch of salt. Bake until golden brown 8-10 minutes.
Meanwhile, saute onions in olive oil over medium until tender. Sprinkle with salt. (You may want to caramelize them for additional sweetness to your soup. If doing so, cook on medium-low or low for 20-30+ minutes.). Stir in balsamic vinegar and let it reduce down (another 5 minutes or so).
Combine tomatoes and onions. Puree mixture in batches in a blender with basil. Return to saucepan.
Over medium, stir in tomato paste and adjust seasonings accordingly.
For serving, top with creme fraiche and additional basil for garnish, if desired. Serve with croutons.
Serves 4 (unless having as main course, then 2).