This recipe is one of Cooking Light's most popular, I believe. I remember seeing it often on promotional flyers, as well as in a couple of magazines. It's definitely more work than using a mix or making cupcakes or cookies, but I love their fudgey texture. This time I made them to crumble in my homemade chocolate ice cream. Fabulous!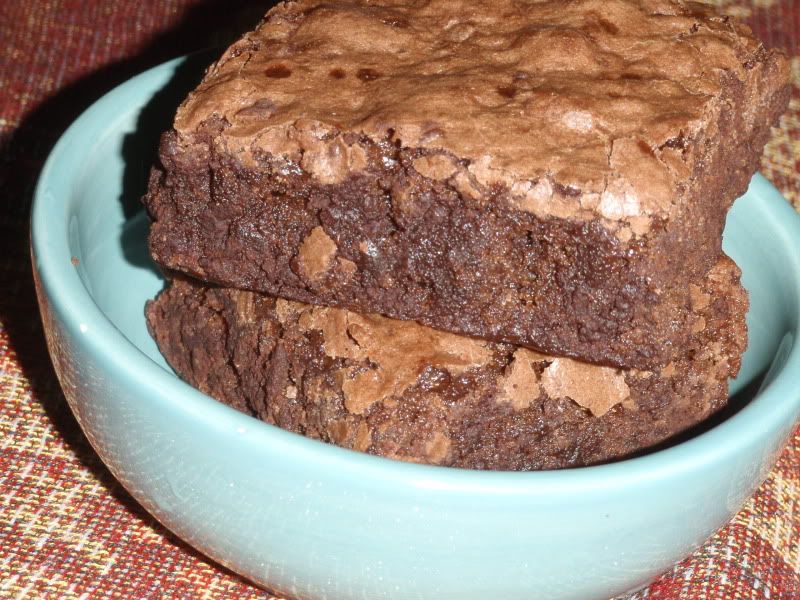 5 tablespoons butter or margarine
1 ounce unsweetened chocolate
2/3 cup Dutch process or unsweetened cocoa
1 1/2 cups sugar
3 large egg whites, lightly beaten
1 large egg, lightly beaten
1 cup all-purpose flour
1/2 teaspoon baking powder
Cooking spray
Preheat oven to 325°.
Melt butter and chocolate in a large saucepan over medium heat. Stir in cocoa; cook 1 minute. Stir in sugar, and cook 1 minute (mixture will almost form a ball and be difficult to stir). Remove pan from heat; cool slightly. Gradually add warm chocolate mixture to egg whites and egg, stirring with a whisk until well-blended. Combine flour and baking powder; add flour mixture to chocolate mixture, stirring well.
Spoon batter into a 9-inch square baking pan coated with cooking spray. Bake at 325° for 27-30 minutes (do not overbake). Cool on a wire rack.
Yield: 20 servings