This is another variation of my
oven fried chicken recipe
. I've been trying to finish a package of Bob Mill's corn meal. It's a little coarsely ground for this use, but I would try it again with a thinner ground. It gives the chicken an added crunch. I laughed when I looked back at the last time I posted this dish and was surprised to notice that I also served it with the same sides--the wild rice is probably leftover from the same batch as it came from my freezer.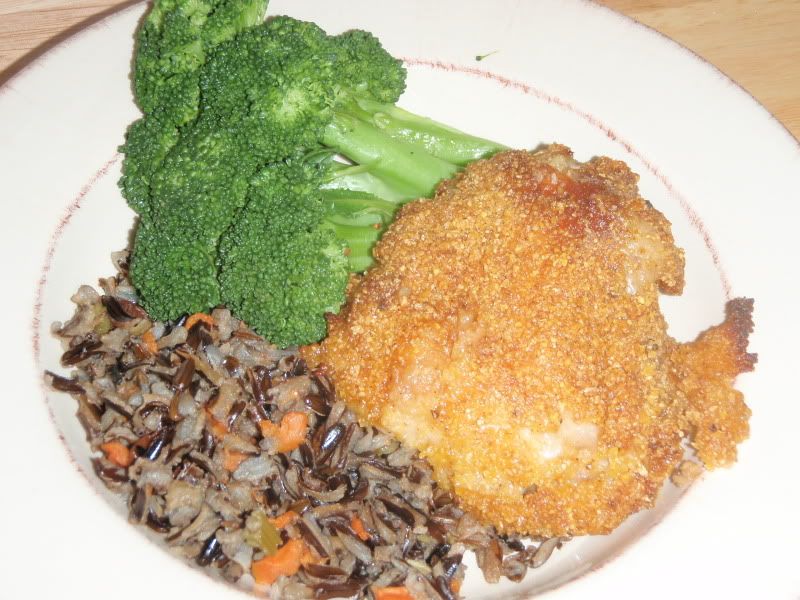 2 c buttermilk
2 lbs chicken pieces
1 c corn meal
1/2 c all purpose flour
1 tsp salt
1.5 tsp paprika (or more to taste--I use heaping tsp)
1/2 tsp ground pepper
1 tsp garlic powder (I used toasted garlic powder)
4 tbs melted butter
1. Marinate chicken in buttermilk for two hours up to overnight. (Alternatively, skip this step and simply dip the chicken in buttermilk before dredging in the flour mixture).
2. Preheat oven to 400 degrees.
3. Whisk together flour, salt, paprika, pepper, and garlic powder in a plastic bag or bowl/tray large enough to accommodate chicken.
4. Drain chicken and coat liberally in flour mixture. Shake off excess flour.
5. Place chicken on a rack in a 9 x 13 baking pan or jelly roll pan. The rack allows the fat to drip away and makes for crispier chicken. Brush or drizzle liberally with melted butter.
6. Bake 30 minutes, turn, and cook for another 20-30 minutes or until cooked through. If chicken becomes too brown, cover loosely with tinfoil.
Serves 4.