Without really meaning to, I've really gotten into making commonly purchased items from scratch. There's my homemade
pizza dough
,
pizza sauce
,
taco seasoning
,
yogurt
, and numerous
sandwich breads
. Despite all this, it never occurred to me that I could make spreadable butter. I've struggled for a long time to find a spreadable butter I liked. I love the convenience of spreadable butter as I frequently eat toast for breakfast or make grilled cheese sandwiches and never have the patience to allow regular butter to get to room temperature first. However, I absolutely despise the fake flavors of products like Country Crock or I Can't Believe It's Not Butter. For awhile, I regularly purchased Smart Balance spreads. There are good coupons available and the taste isn't too bad, however it's definitely an oil-like taste as opposed to a buttery flavor. Plus, when you're doing a pantry challenge and trying only to purchase fresh produce and dairy each week, buying fake butter really seemed wrong. So I turned to Google and came across different variations of
this recipe
. It looked super easy and I had a stash of butter in my freezer, so I decided to try it.
Well, it was a super simple recipe that I made even easier by whisking by hand rather than breaking out the stand mixer. I simply allowed the butter to come to room temperature first, then used a little elbow grease, and viola(!) spreadable butter without the mystery ingredients. It works just like the fake stuff and tastes so much better.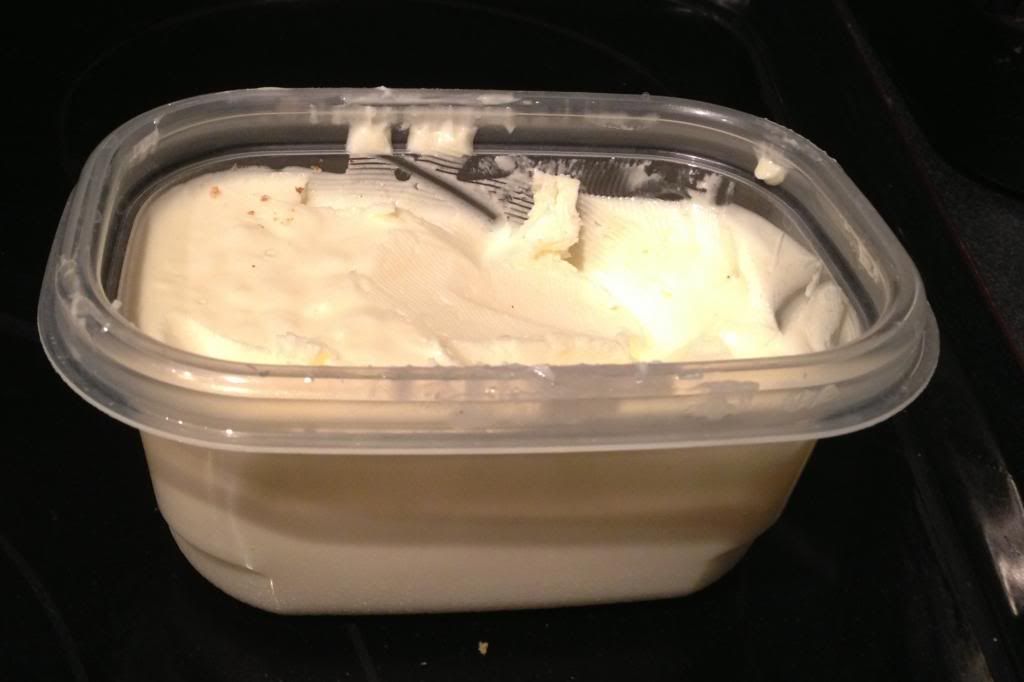 Homemade Spreadable Butter
1/2 c butter, room temperature*
1/4 c canola oil
1-2 TBS water, if desired
*I used salted butter, but you could use unsalted and salt to taste.
Using a stand mixer or whisk, whisk together oil and butter. Add water to achieve desired consistency. Refrigerate and use as you would use the fake stuff.
Note: The fake stuff has food coloring in it to make it look more like butter. Adding oil to butter makes a pale-looking final product, but that's more an acceptable a trade-off.