Wow, how did it get to be April already? Apparently, I missed the entire month of March. Fortunately, even though I didn't post at all last month, I tried a bunch of new recipes which I hope to share with you between now and . . . say, June? :) Just kidding (I hope)!
Today's recipe comes from the February 2013 issue of Bon Appetit and is perfect for winter or fall. We absolutely love butternut squash and chicken pot pies, so an excuse to put the two together couldn't be passed up. Plus, I've also been on the lookout for new ways to try kale, so again this recipe fits the bill. The recipe absolutely did not disappoint. I used my regular pie dough instead of the suggested puff pastry and chicken which I had in the freezer from the last time I roasted a whole bird for stock. These pot pies are fantastic right from the oven but also freeze well.
Butternut Squash and Kale Chicken Pot Pies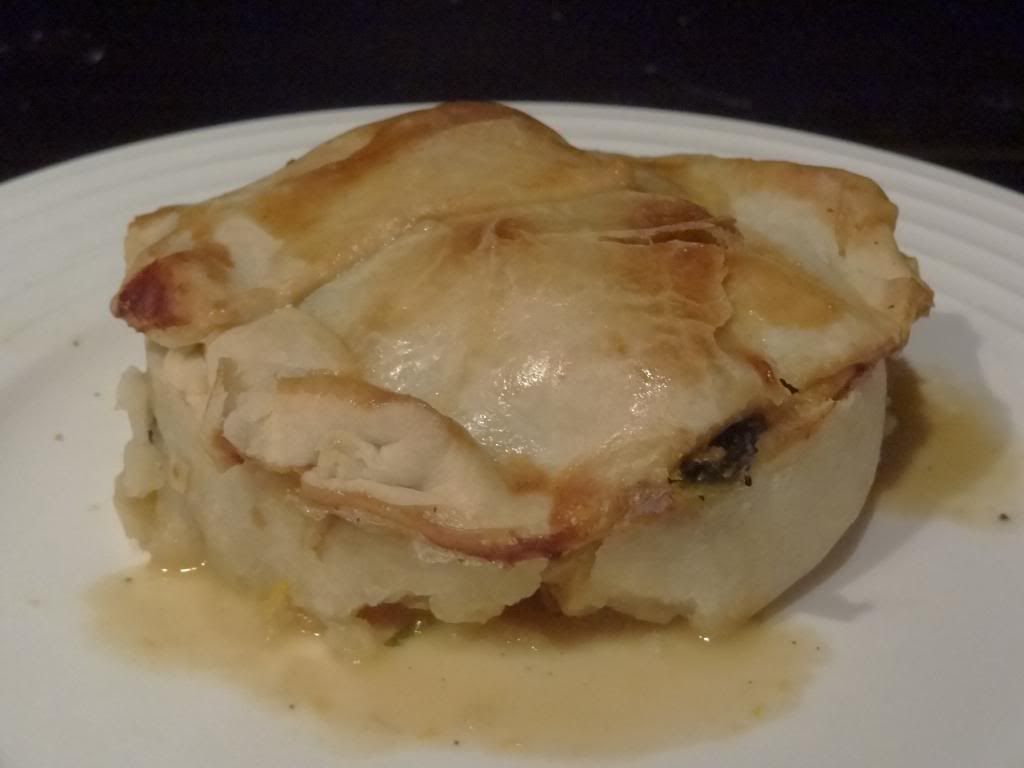 Pie dough for a 9" double-crust pie
1 medium onion, chopped
4 garlic cloves, minced
1 TBS fresh sage (or 1 tsp dried)
1 small bunch kale, stem removed and leaves chopped (~2-3 cups)
1/4 c all purpose flour
3 c chicken broth
1.5 c butternut squash, peeled and diced into 1/2" pieces
1.5 cooked chicken, chopped or roughly shredded
1 egg, whisked with 1 tsp water
salt, pepper, olive oil
Preheat oven to 425 degrees.
Saute onion in olive oil until softened and beginning to brown. Add garlic and sage. Cook for 2 minutes. Stir in kale and season with salt and pepper. Cook until kale is wilted, about 4 minutes.
Sprinkle flour over mixture and cook, stirring occasionally, for another 4 minutes. Whisk in broth and add squash. Bring to a boil, then simmer until squash is softened (fork-tender) and broth is thickened. Add chicken and adjust seasoning.
Roll and cut bottom and top rounds of pie dough appropriately sized for your pan(s). Grease and flour pie pan(s) and needed. Fill generously with mixture, allowing the filling to mound slightly. Add top layer of dough, crimp the edges with your fingers or a fork, and make a few slits to allow steam to escape Brush with egg mixture. I made individual pot pies and got 6 well-stuffed 4" pies with a little bit of both filling and dough to spare.
Bake 15-20 minutes, then reduce heat to 375 degrees and bake another 15-20 minutes until pies are a lovely golden brown. Let cool for 10 minutes to allow filling to set before serving.
Makes 6 individual pot pies or 1 9" pie.