I needed a quick dessert for a dinner with a crowd of fitness buffs so I didn't want to make anything that seemed too dessert-like. Chocolate cake wouldn't do, but I had a hunch that whole wheat muffins, albeit with chocolate chips might do that trick. And they did. Some of my guests had three muffins, and this was after a fairly hearty dinner. I love that these muffins are just sweet enough. Plus, there's texture and crunch thanks to the whole wheat flour and nuts. This recipe is slightly adapted from this one found at
Food.com
Chocolate Chip Whole Wheat Muffins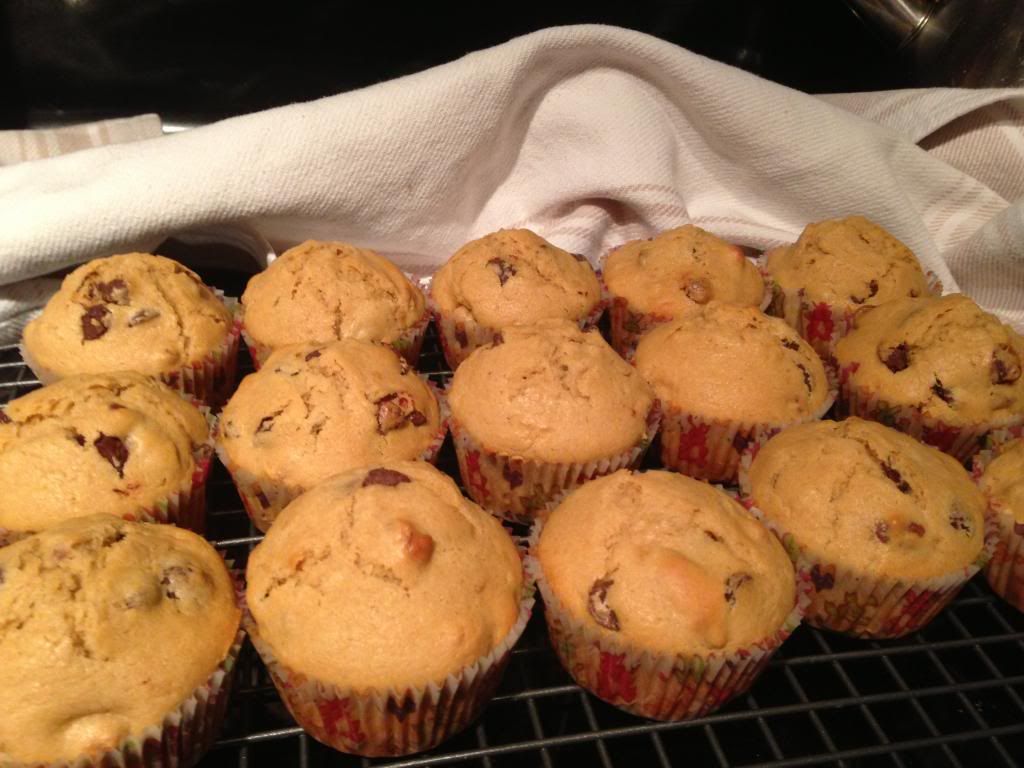 1 cup all-purpose flour
1 cup whole wheat or white whole wheat flour
1/3 cup light-brown sugar, packed
1/3 cup sugar
2 teaspoons baking powder
1/2 teaspoon salt
2/3 cup milk (I used skim)
1/2 cup butter, melted and cooled
2 eggs, lightly beaten (I used 1 whole egg + 2 whites)
1 teaspoon vanilla
1 c semi-sweet or dark chocolate chips
1/2 cup walnuts or 1/2 cup pecans, chopped
Preheat oven to 400 degrees.
Whisk together dry ingredients, except chips and nuts, in a large bowl. In a separate bowl, mix wet ingredients until well-blended.
Make a well in the center of the dry ingredients and incorporate milk mixture until just combined. Stir in chips and nuts.
Using a muffin scoop, fill prepared muffin pan 2/3rds of the way.
Bake 15-20 minutes or until a cake tester comes out clean.
Cool in pan for 5 minutes before turning out onto wire rack.
Makes 15-18 muffins.