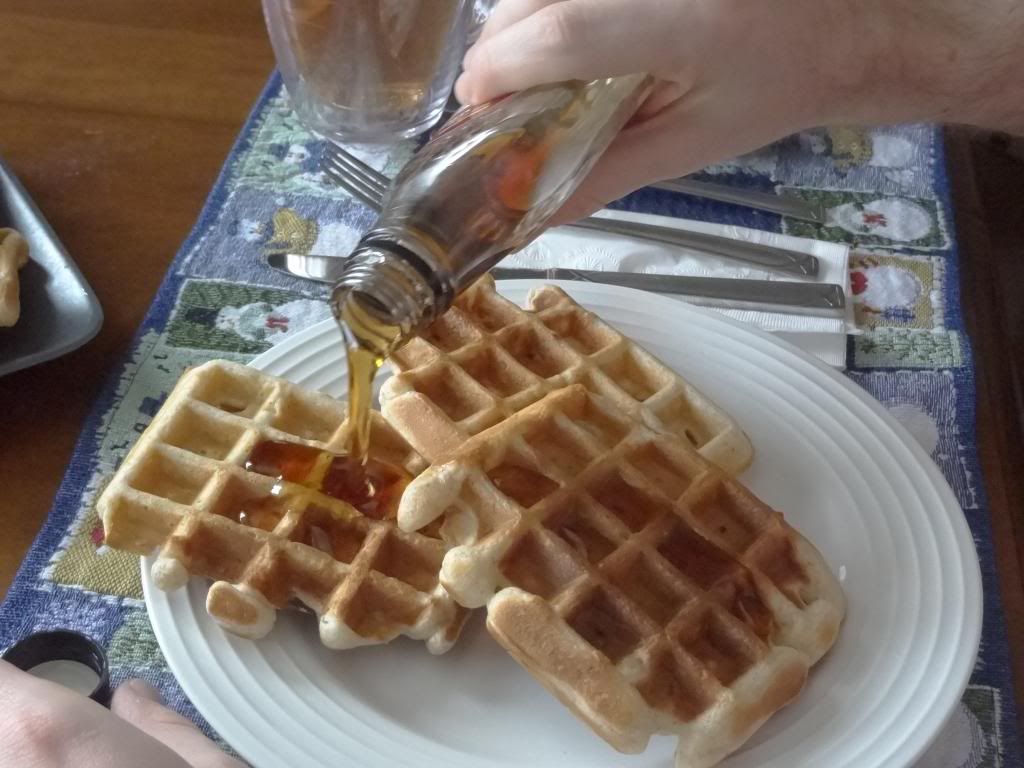 This morning I was in the mood for waffles. Not just any waffle...banana waffles! I've made this recipe a few times now since I first found it on Lynn's Kitchen Adventures and couldn't believe that I hadn't posted it on the blog. Luckily, I had photographed it the last time I whipped up a batch for the freezer in March (hence the snowmen placements). What's awesome about this recipe is that all the yummy toppings, except for syrup, that I usually put on pancakes are in them, namely bananas and nuts. It's also a great way to use up over-ripe bananas and makes a hearty waffle.
Banana Nut Waffles
1 c all purpose flour
1 c whole wheat or white whole wheat flour
1 TBS baking powder
2 TBS sugar
1/2 tsp salt
1 3/4 c milk
1/2 c mashed banana
1/2 c apple sauce
2 TBS oil
2 eggs
1/4 c chopped nuts (I used walnuts)
Preheat waffle iron.
In a large bowl, whisk together dry ingredients. Make a well in the center and add all remaining ingredients except milk. Whisk the wet ingredients first, then gently mix with the flour mixture while adding milk. Try not to overmix.
Let batter rest for 5-10 minutes. (I usually forget this step.)
Cook in waffle iron according to directions for your machine. About 4-5 minutes works in mine.
Makes about 5 full-size waffles.