Happy Friday! How about a super easy dessert? These cream puffs are deceptively easy and so delicious. This recipe comes from the blog
One Perfect Bite.
I followed the recipe pretty much to the letter, except for the omission of chopped nuts. I made both mini puffs, as the recipe suggests, and 6 bigger ones, but will stick to minis in the future. Much more satisfying to polish off 2-3 at a time then be restricted to just one :) Plus, the big ones took longer to bake and it wasn't as easy to tell when they were done. Though none were left to freeze, I've been freezing bakery ones for some time so I feel pretty confident that these would freeze--either with or without the filling. Enjoy!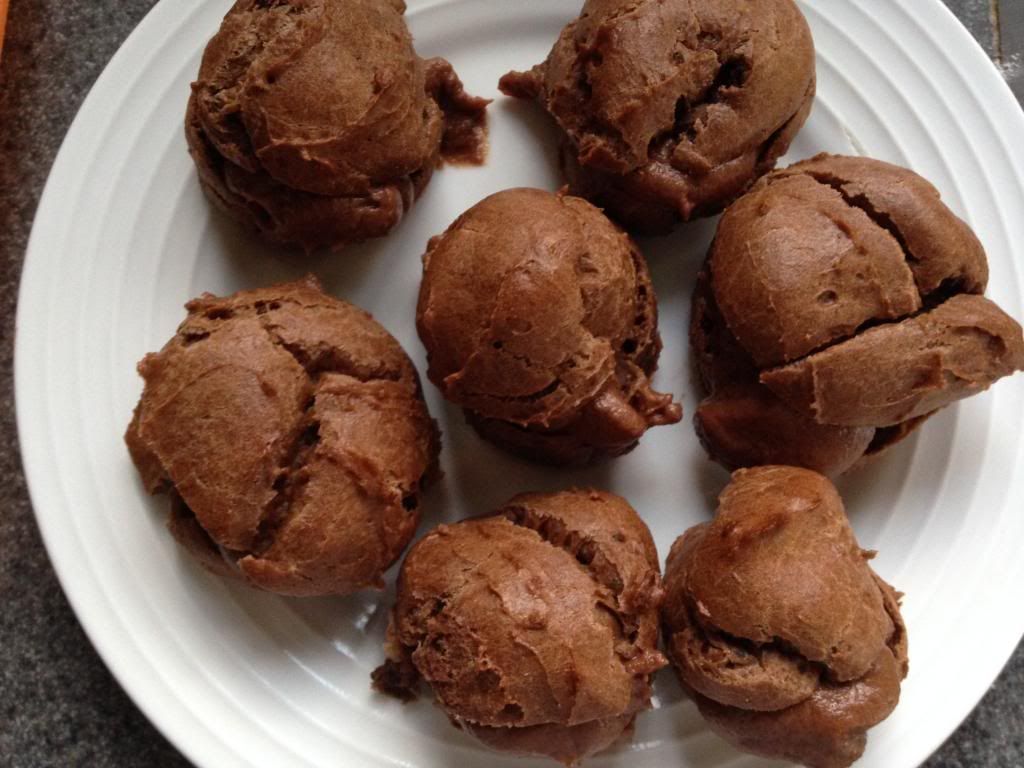 Chocolate Hazelnut Cream Puffs
Filling
6 ounces mascarpone cheese
2 tablespoons sugar
2/3 cup chocolate hazelnut spread (e.g. Nutella--I used Wegman's storebrand)
1/4 cup heavy whipping cream
1/2 cup chopped hazelnuts or pecans, toasted (I omitted)
Pastry
1 cup all-purpose flour
3 tablespoons baking cocoa
2 tablespoons sugar
1 cup water
1/2 cup butter
1/4 teaspoon salt
4 eggs
To Prepare Filling
Beat mascarpone cheese with sugar until smooth. Gradually add heavy cream and hazelnut spread and beat into smooth. Stir in nuts, if using. Cover and refrigerate until puffs have cooled.
To Prepare Puffs
Preheat oven to 400 degrees. Line baking sheets with parchment paper.
Whisk together flour, cocoa and sugar in a small bowl and set aside. In a medium saucepan bring water, butter and salt to a boil. Stir in flour mixture and stir until a smooth ball forms. Remove from heat and let stand for 5 minutes. Add eggs, one at a time, beating well after each addition.
Drop dough by rounded tablespoons 2" apart. Bake for 20-25 minutes or until puffs are set and slightly browned. Remove to wire racks and cool completely.
Slice each puff in half or about 3/4ths of the way. Use a piping bag and to fill with filling. (Alternatively, you can scoop out some of the dough before they cool, but the dough is light and airy so there was plenty of room to fill.)
Refrigerate or freeze any leftovers.
Makes about 2 dozen mini cream puffs