What's the start of a week without ice cream? I first made this recipe over a year ago, but somehow neglected to take pictures. Since it was such a tasty recipe, I posted it anyway but who wants to follow a recipe without pictures? (Maybe Julia Child or her loyal fans, but certainly not me!) This recipe comes from
The Ultimate Ice Cream Book
by Bruce Weinstein. I used cheap Nestle dark chocolate with high-quality cocoa powder and vanilla. The result was pretty tasty but I can only imagine how yummy it would be if I used nicer ingredients for the entire recipe. I especially like that there's not a half-dozen egg yolks in this recipe, yet the result is pretty close to a commercial quality ice cream. Enjoy!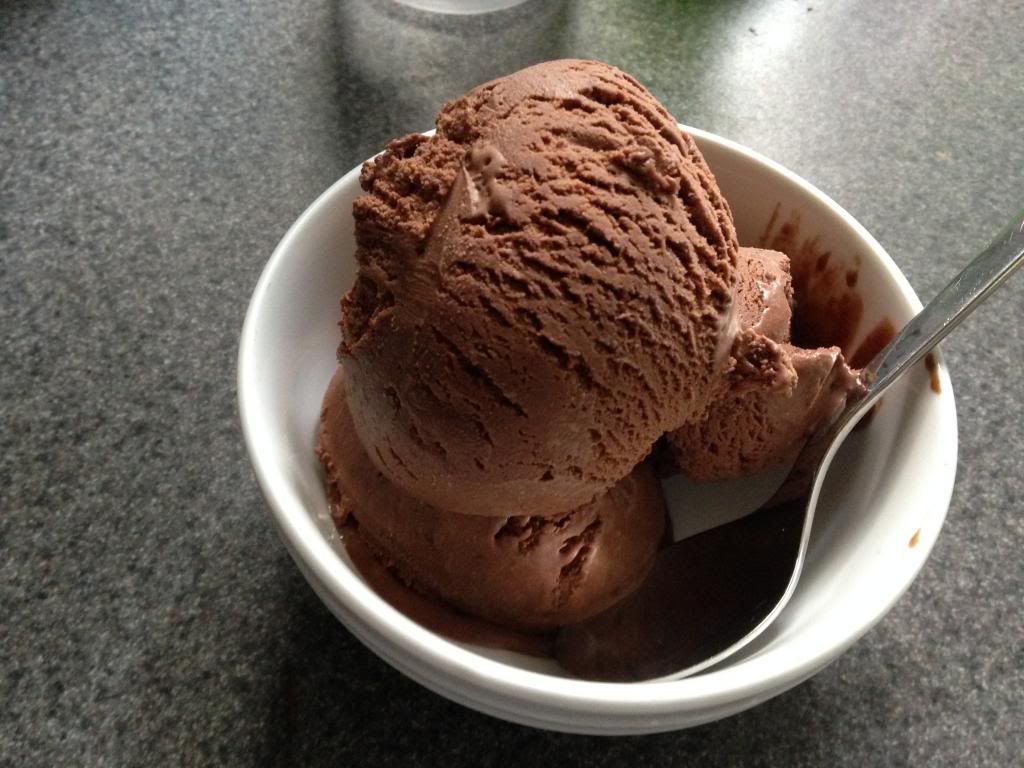 Chocolate Truffle Ice Cream
1/2 c sugar
2 egg yolks
1 c milk (I used 2%)
1/4 c cocoa powder
1.5 c heavy cream
6 oz bittersweet chocolate, chopped
1 tsp vanilla
In a mixing bowl, beat egg yolks and sugar until a pale yellow color is reached (this will take a few minutes).
Bring the milk (only) to a simmer in a medium saucepan. Whisk in cocoa and simmer 3 minutes.
Slowly beat hot milk mixture into egg/sugar mixture. Return the entire mixture to the stove over low heat. Cook stirring constantly until custard thickens slightly. This took about 10 minutes with low-fat milk.
Remove from heat and pour into a clean bowl. (Strain, if desired (i.e. if you scrambled some eggs).
Bring the cream to a simmer and melt chopped chocolate. (I pre-melted the chocolate in the microwave, but this likely is unnecessary if you're using high quality chocolate.)
Combine the chocolate mixtures and stir in the vanilla.
Cover with plastic wrap (touching surface of custard to avoid a skin forming). Chill completely (overnight is ideal). Make ice cream according to your ice cream machine's directions.
Makes 1 quart