Good morning! It's been grilling season for awhile here now, so I figured it's about time I shared my new favorite marinade for grilled chicken. I've never been too big a marinade fan, but this recipe from
The Naptime Chef
sounded so fresh and easy that I had to try it. It's quickly become my go-to recipe when I want to grill chicken. (Move over bbq sauce!) I've basically halved the ingredients from the
original recipe
. With lemons sometimes being quite pricey most of the year, not to mention the cost of good olive oil, I'm pleased to report that the result is still very flavorful. I've only made this recipe with chicken breasts, but you could use any cut of chicken (thigh meat on kabobs would be great), pork or fish. As you can see from the picture, I don't mind the texture of rosemary, but leave the needles on the sprig so you can remove it at the end or chop them up finely if you do.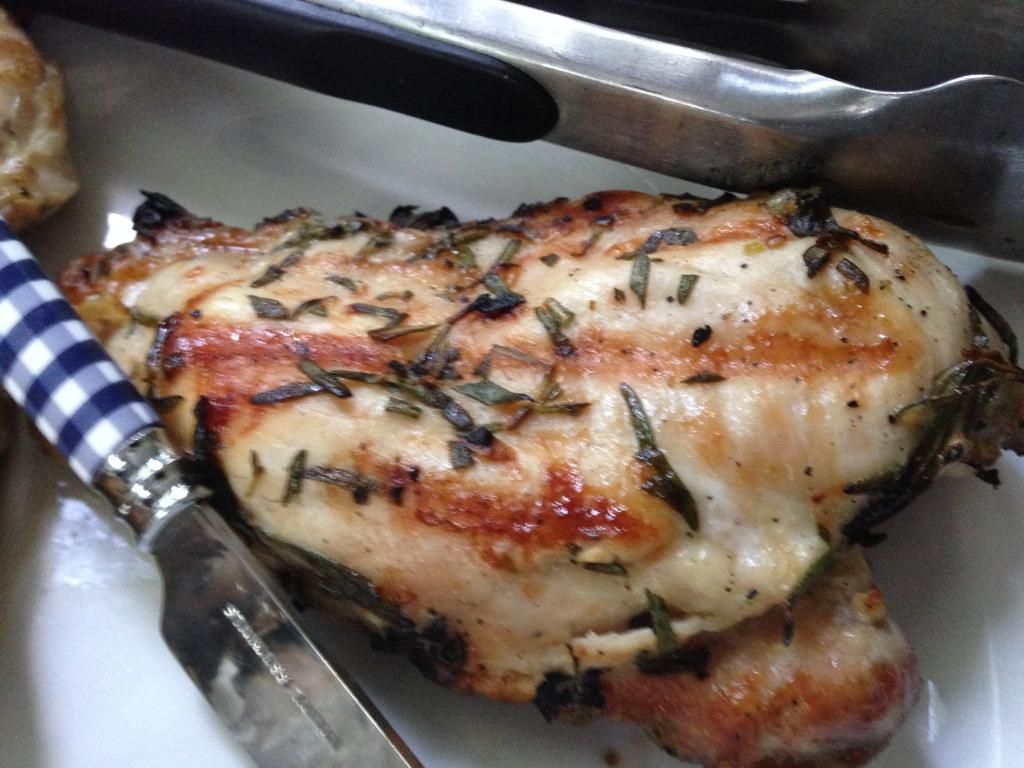 Garlic, Lemon & Rosemary Marinade
1-2 lemons, halved and juiced (save rind)
3-5 cloves garlic, smashed with flat side of knife or roughly chopped
3 large sprigs of rosemary
1/2 c olive oil
1 tsp salt
½ tsp red pepper (optional, I sometimes sub black pepper)
½ tsp cinnamon
4 boneless, skinless chicken breasts (or any meat that might pair well)
Whisk together lemon juice, olive oil, salt, pepper, and cinnamon. In a gallon sized bag, pour marinade over chicken and add garlic cloves, rosemary (on or off the sprig), and lemon halves. Turn to coat well. Place in refrigerator for at least 30 minutes but ideally an hour. The acidity in the lemon juice will eventually "cook" the chicken so you don't want to leave it too long, but the original poster states that she's let it rest for 5 hours with great results.
Preheat grill to medium heat. Discard rosemary sprigs and lemon rinds. Grill chicken 5-7 minutes per side, until cooked through (165 degrees F).
Serves 4