Happy Friday. Here's great chocolate cinnamon roll recipe that I found from
The Naptime Chef
. It's ooeey-gooey chocolatey goodness. I didn't even make the vanilla glaze provided in the original as they didn't need it. These are definitely a chocolate roll, as opposed to a cinnamon roll (I'm still looking for the perfect recipe for that). I must warn you that this recipe makes a ton, at least two dozen. Half went in my freezer...and the other half were devoured in two days. Naturally, I used my breadmaker for the dough but the original recipe has directions to use your stand mixer. Enjoy!
Chocolate Cinnamon Rolls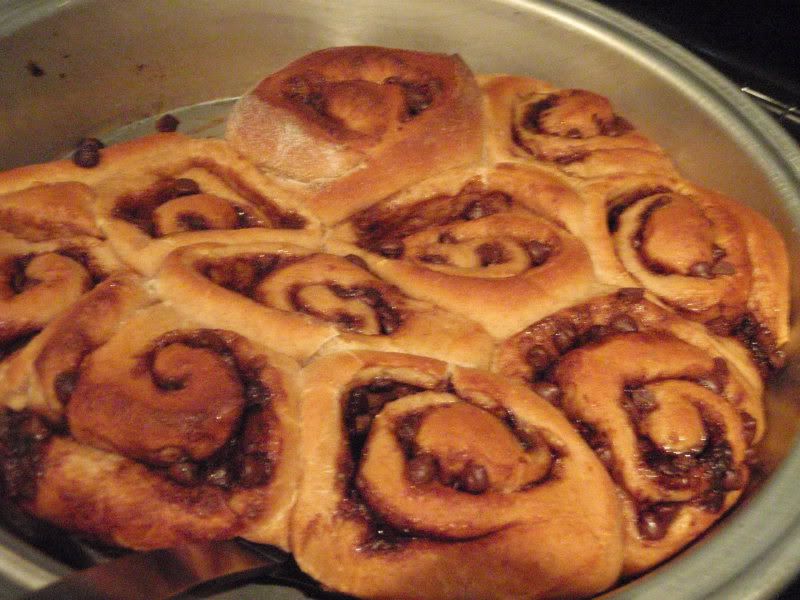 Dough
1 cup milk
3 TBS butter, melted
3 3/4 cups all-purpose flour
1/2 cup sugar
2 tsp ground cinnamon
1 tsp kosher salt
1 large egg, slightly beaten
2 1/4 tsp rapid-rise yeast
Filling:
3/4 cup light brown sugar
1 TBS ground cinnamon
1/2 stick butter, softened
1/2 cup mini chocolate chips
In my breadmaker, I added the ingredients in the order listed. The egg was a little tricky since it's important for the yeast not to get wet. I just made sure that my mountain of flour that held the yeast was tidy. Set breadmaker to "dough" cycle.
Mix brown sugar, cinnamon, and butter.
Roll dough into 14×12 rectangle. Spread the butter mixture over it, leaving a half-inch border all the way around. Then evenly sprinkle in the chocolate chips. Roll up the dough lengthwise and cut it into ½-inch wide slices.
Cover rolls with a towel. Allow them to rise for at least one hour.
Preheat oven to 375 degrees. Bake for 20 minutes until they are golden brown.
Makes about two dozen rolls.