Well, I didn't know who was playing in this year's Superbowl until just a couple of days ago, but we're going to a party this afternoon and I had to bring something. I stumbled across
this recipe
at
Tracey's Culinary Adventures
and even though we're not overly fond of super spicy things I decided to try it. With the help of my trusty bread maker, these whipped up in a jiff and are absolutely delicious, even without any dipping sauce. Tracey has great step by step directions on her blog, so
hop over
and see if you're in doubt as to my directions or are making the dough by hand. She advises that you can make them ahead of time, then reheat in the oven at 350 degrees. Since someone else is hosting, I will probably ask to pop them in the microwave.
I also baked chocolate cupcakes and will hopefully post that recipe tomorrow. Gooooo Patriots and/or Giants!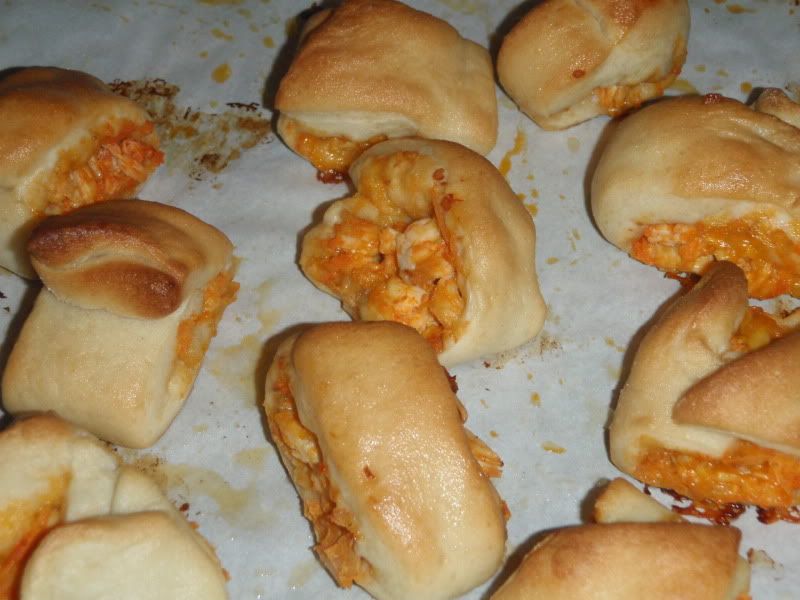 Buffalo Chicken Bites
Dough
1 cup warm milk
2 1/2 cups all-purpose flour (I use up to half white whole wheat flour)
2 TBS packed light brown sugar
1/4 teaspoon salt
2 1/4 teaspoons instant yeast
Filling
1-2 cups shredded chicken (I used 1 large chicken breast)
1/2 - 3/4 c shredded cheese
1/4 c hot sauce (I used
Louisiana Original
and added a couple extra dashes)
For serving
4 tbs melted butter
ranch dressing
Prepare dough in bread machine on "dough" cycle. Mine takes just under 2 hours with a preheating step. Meanwhile mix filling.
When dough is ready, divide into 4 equal portions. Roll each portion into 12" x 4" rectangle. Fill lower portion of rectangle with 1/4 of filling, leaving a 1/2" edge along the bottom. Fold top part of dough over filling and bring up lower edge to seal. Cut into 12 equal pieces.
Preheat oven to 400 degrees. Meanwhile allow bites to rise for 20 minutes.
Bake 15 minutes until golden brown. Immediately upon removing from oven, brush with melted butter.
Makes approximately 48 bites.