As I mentioned yesterday, we were invited to a Superbowl party. Yes, neither my husband nor I have much interest in football, however I'll leap at at any opportunity to cook or bake something new. Since the hosting family has a bunch of kids, I immediately thought of cupcakes. These chocolate cupcakes appeared in
Hello, Cupcake!
by Karen Tack & Alan Richardson. The icing is an amalgamation of several cream cheese frosting recipes I saw online, and turned out quite nicely if I do say so myself. The cupcakes were super light, which was wonderful, but a bit crumbly. I'm hoping I simply overbaked them a bit so won't throw this recipe out just yet. I definitely overfilled the cupcake pan, which may have led to a longer baking time than advisable.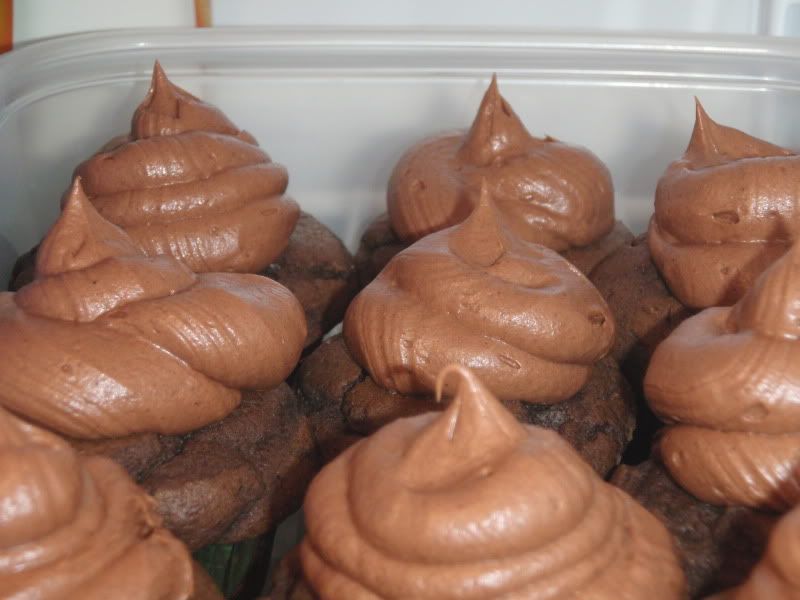 Chocolate Cupcakes
1 3/4 c all purpose flour
1/4 c unweetened cocoa powder
3/4 tsp baking soda
1/2 tsp baking powder
1/2 tsp salt
3/4 c butter (12 tbs), softened
3/4 c brown sugar
2 eggs
2 ounces unsweetened chocolate, melted
1 c buttermilk
1 tsp vanilla
Preheat oven to 350 degrees. Line muffin pans with liners.
Whisk together dry ingredients.
In a large bowl, beat butter and sugar until light and fluffy. Add eggs, one at a time. Beat in melted chocolate.
Reduce speed to low and add flour mixture alternately with milk, beating until just blended. Stir in vanilla.
Fill liners 2/3rds full (this was my mistake, I think). Bake 15 - 20 minutes until a toothpick inserted into center comes out clean.
Cool on wire rack.
Makes 16 regular cupcakes
Cream Cheese Chocolate Frosting
1/2 c butter, softened to room temperature
8 oz cream cheese (I used 1/3 reduced fat)
6tbs unsweetened cocoa powder
About 2 cups confectioner's sugar
1 tsp vanilla
2-3 tbs half and half
pinch of salt
Beat all ingredients together until desired consistency and taste is reached. I started with 1.5 cups sugar and added the last half after tasting.