Okay, I'm about a month and a half overdue in posting this recipe, which I made for dessert on St. Patty's Day. Someone told me oatmeal cookies were most appropriate, however, I was in the mood for chocolate. These cookies from
King Arthur
barely lasted the day. I made them a touch healthier by using white whole wheat flour which made for a slightly hardier cookie.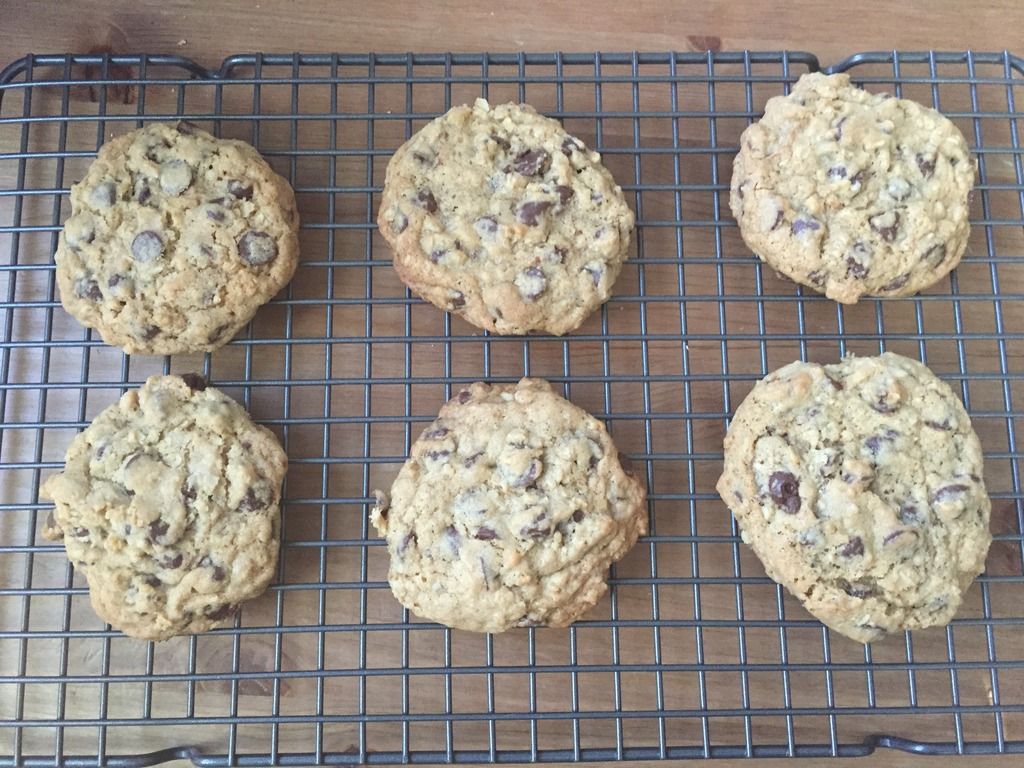 King Arthur Chocolate Chip Oatmeal Cookies
1 cup butter, at room temperature
1 cup light brown sugar
1/2 cup granulated sugar
2 eggs
1 tablespoon vanilla extract
2 cups white whole wheat (or all purpose) flour
1 cup oats (either rolled or quick)
1 teaspoon baking powder
1 teaspoon baking soda
1 teaspoon kosher salt
3 cups semisweet chocolate chips
Preheat the oven to 325°F. Line several cookie sheets with parchment paper, or lightly grease with non-stick vegetable oil spray.
Cream butter and sugars until smooth. Add the eggs and vanilla one at a time, beating well after each.
In a separate bowl, whisk together the flour, oats, baking powder, baking soda, and salt. Add to the butter mixture in the bowl and mix until thoroughly incorporated.
Stir in the chocolate chips.
Using a cookie scoop or rounded tablespoon, fill cookie sheets, leaving about 1 1/2" to 2" between cookies.
Bake 12 to 15 minutes, until cookies are a light golden brown, with slightly darker edges.
Cool on pan for a few minutes before removing to racks.
Yield 4-5 dozen (1-2") cookies