I've never been in search of the perfect fluffy pancake recipe. I simply want a pancake that's tasty, whips up easily and isn't too unhealthy. With a little tweaking,
Martha Stewart's Easy Basic Pancakes
fit the bill. To feed my growing family of four with a few leftovers for the freezer, I always double the recipe. This morning on a whim I decided to use whole wheat pastry flour, which tasted just fine, but made for a thinner batter. I simply added an extra 1/4 cup and all was well in toddlerland.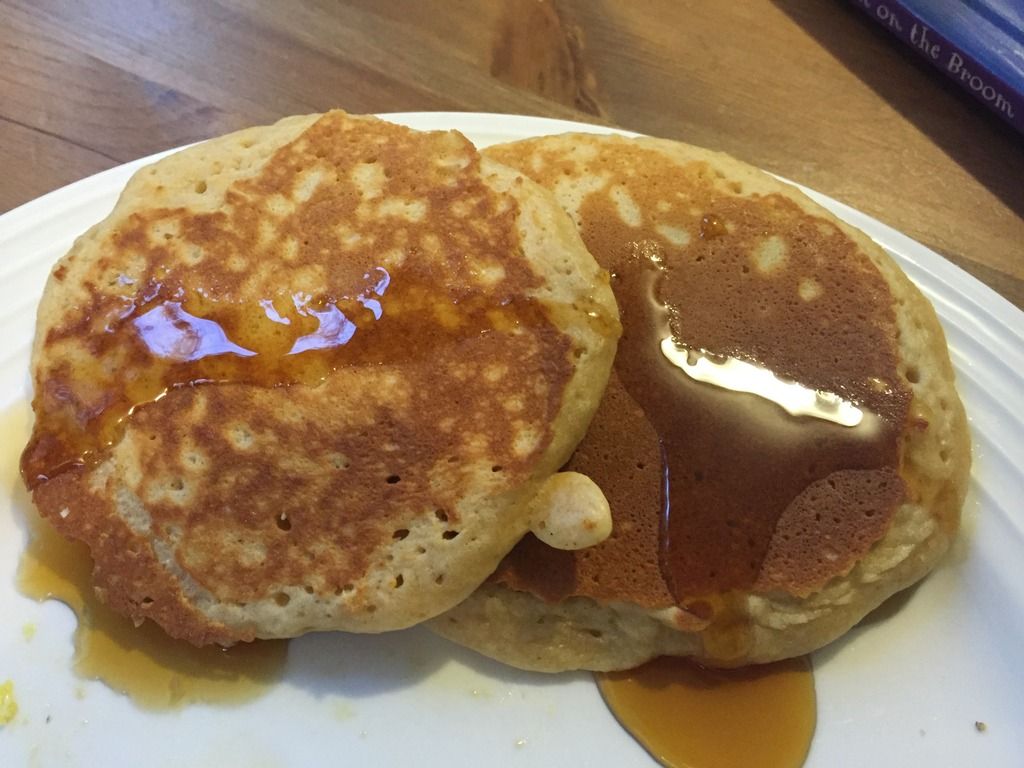 MS Basic Pancakes
2 cups white whole wheat flour (or 2 1/4 c whole wheat pastry flour)
1/4 cup sugar
4 teaspoons baking powder
1 teaspoon salt
2 cup milk
4 tablespoons butter, melted, vegetable oil, applesauce or a combination thereof (I used 2 TBS butter and 2 TBS canola oil)
2 large eggs
Whisk together dry ingredients. Make a well in the center and add eggs and butter, oil, etc. Gently combine while adding milk until a smooth consistency is reached. Allow to rest for a few minutes while you preheat your griddle to 350 degrees or skillet to medium. Grease cooking surface lightly with oil.
Cook until surface of pancakes have some bubbles and a few have burst, 1 to 2 minutes. Flip carefully and cook until browned on the other side, 1 to 2 minutes more. Transfer to a baking sheet or platter; cover loosely with aluminum foil, and keep warm in oven on low. Continue with more oil and remaining batter. Makes about 24 2-3" pancakes