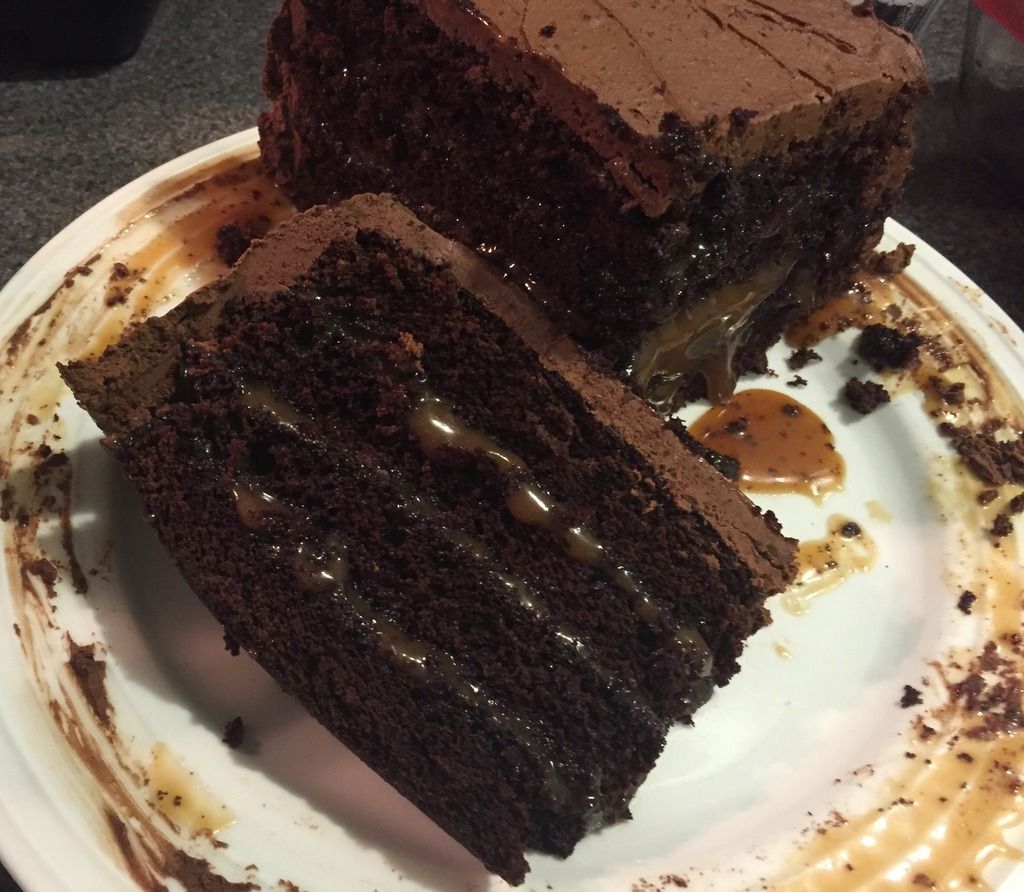 I turned 36 this year. Surprisingly, it was a bigger deal for me than turning 35. Possibly because last year I was 7 and 1/2 months pregnant or because my husband was working 12-hour night shifts or because my toddler was going through an extremely difficult sleep stage, I just didn't have time to worry about it. This year, however, I felt like 40 is knocking at my door. I'm definitely not grown up enough to be 40! Anyway, what better thing to do than celebrate with an obnoxiously decadent cake? I didn't want to go too crazy as I have a toddler and a 10 and 1/2 month old underfoot, but I did want something fancier than my regular cake. I'd pinned this recipe from Martha Stewart some time ago and decided it try it.
With loads of butter, eggs, and chocolate, this is quite a dessert. The actual cake is surprisingly quite light and fluffy. While I won't say that it is a complicated recipe, there are a number of steps. I actually messed up the caramel because you're meant to bring it to the soft-ball temperature in candy-making 238 degrees). However, the darn mixture kept boiling over even after I switched to a larger pot. So I gave up about 5 degrees short, which yielded a runnier caramel, which is perfect for ice cream. Luckily, when the buttercream hardens it holds the cake together beautifully, so it's not a huge deal. Enjoy!
MS Salted Caramel Chocolate Cake

For the cake:
3 cups all-purpose flour
3 cups granulated sugar
1 1/2 cups unsweetened Dutch-process cocoa powder
1 tablespoon baking soda
1 1/2 teaspoons baking powder
1 1/2 teaspoons coarse salt
4 large eggs
1 1/2 cups low-fat buttermilk
1/2 cup plus 2 tablespoons oil
2 teaspoons pure vanilla extract
Preheat oven to 350 degrees. Butter and flour three 9-inch round cake pans. Sift flour, granulated sugar, cocoa, baking soda, baking powder, and 1 1/2 teaspoons coarse salt into the bowl of a mixer. Beat on low speed until just combined. Raise speed to medium, and add eggs, buttermilk, 1 1/2 cups warm water, oil, and vanilla. Beat until smooth, about 3 minutes.
Divide batter among pans. Bake until cakes are set and a toothpick inserted into the center of each comes out clean, about 35 minutes. Let cool in pans set on a wire rack for 15 minutes. Turn out cakes onto racks, and let cool completely.
For the caramel:
4 cups granulated sugar
1/4 cup light corn syrup
2 cups heavy cream
1 teaspoon coarse salt
2 sticks cold butter, cut into tablespoons
Combine granulated sugar, corn syrup, and 1/4 cup water in a medium saucepan over high heat. Cook, without stirring, until mixture is dark amber, about 14 minutes. Remove from heat, and carefully pour in cream (mixture will spatter); stir until smooth. Return to heat, and cook until a candy thermometer reaches 238 degrees, about 2 minutes. Pour caramel into a medium bowl, stir in 1 teaspoon coarse salt, and let cool slightly, about 15 minutes. Stir in butter, 1 tablespoon at a time. Let cool completely.
For the frosting:
1/4 cup plus 2 tablespoons Dutch-process cocoa powder
2 sticks unsalted butter, room temperature
1/2 cup confectioners' sugar
Coarse salt
1 pound semisweet chocolate, chopped, melted and cooled
Coarse sea salt for garnish.
Whisk together cocoa and 1/4 cup plus 2 tablespoons warm water in a bowl until cocoa dissolves. Beat butter, confectioners' sugar, and a generous pinch of coarse salt in a clean bowl with a mixer on medium speed until pale and fluffy. Gradually beat in melted chocolate and then cocoa mixture until combined. Let stand for 30 minutes before using.
To assemble the cake:
Trim tops of cakes using a serrated knife to create a level surface. Cut each in half horizontally to form 2 layers. Transfer 1 layer to a serving platter, and spread 3/4 cup caramel over. top. Top with another cake layer, and repeat with remaining caramel and cake layers, leaving top uncovered. Refrigerate until set, about 1 hour.
Frost top and sides of cake. Sprinkle with sea salt.
Cake layers and caramel can be refrigerated for up to 3 days. Martha notes that they actually taste better when refrigerated and have a better texture for stacking. Bring the caramel to room temperature before using. The frosted cake can be refrigerated for up to 3 days.