As you may know, I went apple picking on Sunday at the
Countyline Orchard
in Hobart, Indiana. To make apple muffins, I decided to modify
this blueberry-oat muffin recipe
. I also had some ground flax in the fridge, which I added for extra protein and fiber. It changed the color of the muffins to a dusty brown that I didn't much care for, so I added a sprinkle of sugar on top. These were a big hit at work.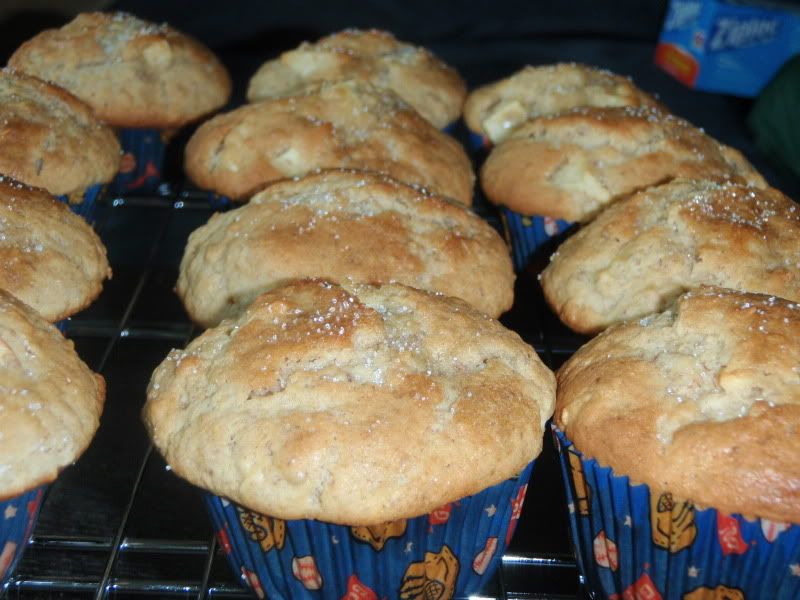 Printable version
Ingredients

1/2 c butter, melted
1/2 c + 1 tbs brown sugar
1/2 c granulated
2.25 c all-purpose flour
1/4 c to 1/2 c ground flax
2 tsp baking powder
1 tsp cinnamon
1/2 tsp salt
1 egg + 2 egg whites
1 c 2% milk
1 - 1.5 c apples, peeled and diced
1/2 c oatmeal
1 tbs butter, melted
1 tbs granulated sugar
Directions
1. Preheat oven to 375.
2. Mix butter and sugars together until fluffy. Add eggs.
3. Whisk flour through salt together in another bowl.
4. Add flour mixture to butter mixture, alternating with the milk.
5. Stir in apples and oatmeal.
6. Pour into prepared muffin tins. Bake for 25-30 minutes until cooked through.
7. Upon removing from oven, brush with melted butter and sprinkle with sugar. Cool completely on a wire tack.
Makes 12-14 muffins.