I've been wanting to make this recipe for awhile now and twice bought a large zucchini for shredding from the farmer's market. Apparently, the larger a zucchini becomes, the less desirable it is for general snacking. Perfect for baking. Anyway, I printed this recipe from
Tasteofhome.com
, but believe I saw it first on someone's blog. Since I was out of sour cream, I served the pancakes with apple sauce (like potato pancakes), which worked well enough for breakfast.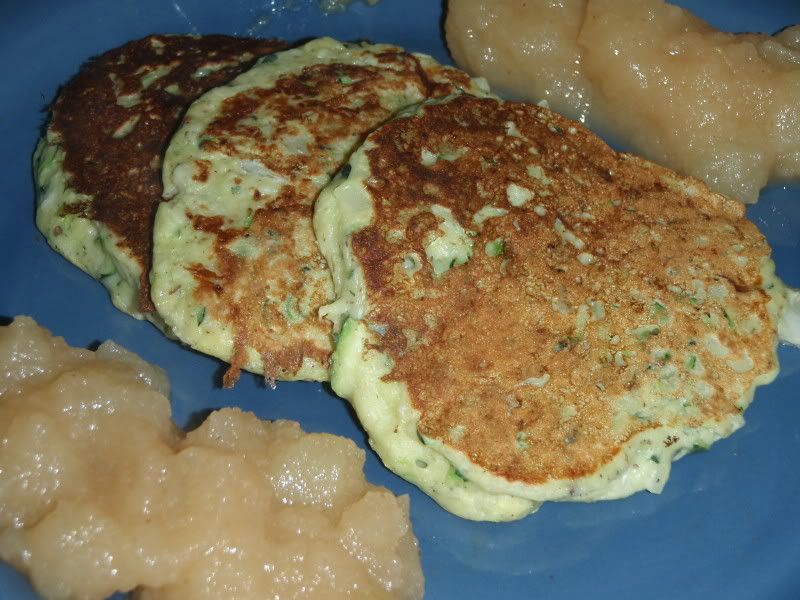 Printable Version
Ingredients
1/2 c all-purpose flour
1/2 c grated Parmesan cheese
1/2 tsp dried oregano, salt, and pepper
1.5 c shredded zucchini, water drained
1 egg, lightly beaten
1/4 c chopped onion, sauteed (the recipe called for raw, I don't like the bite)
2 TBS mayo (FF works great)
Directions
Whisk flour, spices, and cheese together. In a separate bowl, combine zucchini, onion, egg, and mayo. Gently combine wet and dry ingredients.
On a skillet or griddle coated with cooking spray or melted butter, drop half cupfuls and cook until browned and firm on each side. (About 2-3 min per side).
Serve warm with sour cream (or apple sauce).
2-4 servings