Happy Fourth of July! I had the best of intentions to make my
red velvet cupcakes with cream cheese icing
and dye the icing red white and blue. However, first I was out of cocoa powder, then the icing did not turn out for whatever reason. Probably because I used fat free cream cheese which has a different consistency than the low fat version I used here. Thus, I turned to my
jam-filled cupcakes
recipe and searched the web for
a chocolate frosting recipe
without cocoa powder. This one fit the bill, adapted well to substitution, and is fantastic! They're in the fridge right now waiting to go to a bbq. Hopefully, they'll be able to sit out for a bit but either way the taste is definitely worth it.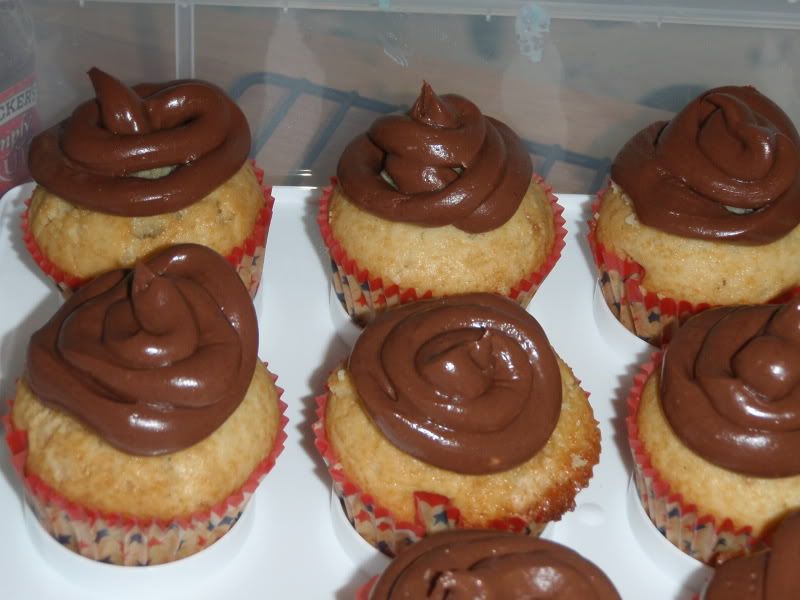 8 oz cream cheese (I used 1/3 less fat)
1/4 c whipping cream (I used FF 1/2 and 1/2)
1/4 c confectioner's sugar
1 c semi sweet chocolate chips
Melt chocolate chips and cream in double boiler. Remove from heat and beat in cream cheese and sugar until smooth. Refrigerate for 15 minutes until thickened.
Frosts 12-15 cupcakes