As a kid, for whatever reason I could not stand this dish. Possibly because it was made with minute rice, which I despised. This time I loved it!
This recipe is from a neat blog that I only discovered after leaving Chicago called "
What's Cooking Chicago
?" I made only minor adaptations, mainly subbing in brown rice for white rice and leaving out a topping. The original post recommends freezing before baking. I, however, froze the leftovers. Just asked my husband how the frozen one was and he said there was something funky about it, but (a) I don't know whether he shares his mommy's aversion to bell peppers that you can see or (b) whether he heated it to the proper temperature. Thus, I probably would freeze again if I had leftovers.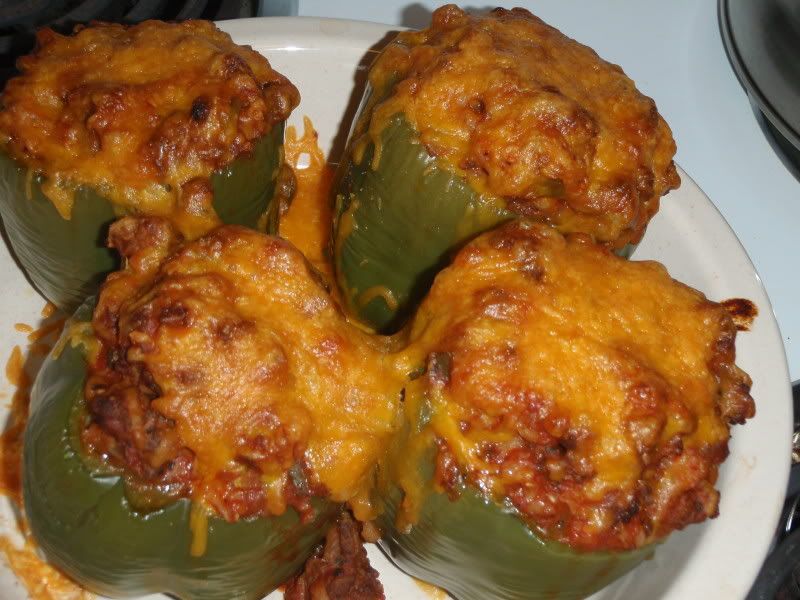 4 green bell peppers
1/2 cup cooked brown rice
1 med onion, chopped (about 1/2 cup)
3 garlic cloves, minced
1.25 lb ground beef (fairly lean works)
splash of Worcestershire sauce (about 1 tbs)
14.5 oz drain tomatoes, chopped (drain and reserve 1/4 c liquid)
1/4 c ketchup (I omitted)
1.5 c of shredded cheese (I used a cheddar mexican mix)
2 tbs fresh parsley (or 2 tsp dried)
salt, pepper, olive oil
1. Bring a large pot of water to boil, deep enough to fully submerge your peppers. Salt the water. Slice the top off of each pepper and remove seeds and membranes. Cook each pepper for about 3 minutes--they should still be fairly crisp. Drain and place in 9" square pan.
2. Preheat oven to 350°F.
3. Saute onions in olive oil until softened. Add ground beef, season with salt and pepper, and cook until browned. Stir in garlic and splash of Worcestershire sauce in the last minute. Remove from heat.
4. In a separate bowl, mix rice, beef, 1 c cheese, tomatoes, and parsley. (If using ketchup, in a small bowl mix with reserved tomato juice). Spoon evenly into peppers. Top with reserved cheese (and ketchup mixture, if using).
5. Bake for 30 minutes or until browned.
Serves 4